1953-1954 Plymouth Belvedere
Better things were coming for the model -- but not for the 1953-1954 Plymouth Belvedere, as Plymouth marked its 25th anniversary in 1953 with a complete re-style that wasn't completely successful. Concord was dropped and previous models redistributed between Cambridge and Cranbrook on a new in-between, 114-inch wheelbase.
Despite fully flush rear fenders, smoother front, lower deck, and the obligatory one-piece windshield, the result was stubby, almost homely next to this year's Ford and Chevy, both of which rode one-inch-longer wheelbases. The grille was curious, its convex horizontal bar suggesting an overbite. Mechanical changes were virtually nil apart from the addition of Hy-Drive automatic transmission, though a slight compression boost upped the hoary six-cylinder engine to an even 100 horsepower.
Still a top-line model, the 1953 Belvedere wore its name instead of Cranbrook script on the front fenders, plus special square-corner upper windshield moldings. Two-toning was more conventional than before, while genuine wire-spoke wheels were newly optional in chrome or main body color. Alas, the revised roofline with its reverse-slant C-pillars was unbecoming, rather like an ill-fitting hat.
Price came down $172 but demand stayed about the same, model year production totalling 35,185 units. More modest price reductions attended other models ($61 on the Cranbrook sedan, for instance). Meanwhile, Ford sold over 128,000 Crestline Victoria hard tops and Chevy moved better than 99,000 Bel Air Sport Coupes.
For 1954, Belvedere replaced Cranbrook as Plymouth's top-of-the-line, thus emulating Chevy's pattern with the 1953 Bel Air. Included were convertible, two-door Suburban wagon, four-door sedan, and the familiar hardtop, now called Sport Coupe. Cambridge was retitled Plaza, though two- and four-door sedans, Suburban, short-deck club coupe, and business coupe were retained. All but the last were duplicated in a new mid-range series called Savoy.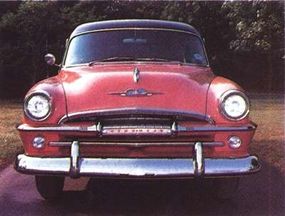 The 1954 Plymouth Belvedere got a minorfacelift with a new grille.
Styling was mildly facelifted, with a less awkward grille, more prominent headlamp bezels, and revised trim. Belvederes (save the Suburban) wore little chrome fins on their rear fenders, a forecast of things to come. Ads billed the 1954s as "Hy Style," which they definitely weren't, though Belvedere's two-tone interiors were attractive enough. The problem was size. Though Plymouth sat an inch lower than this year's Ford, it was five inches shorter. It showed, aggravated by body lines that weren't integrated somehow.
The Ford/Chevy price war that had been clobbering most makes (especially the independents) since mid-1953 prompted two new Plymouth features in March 1954. One was the much-needed fully automatic transmission, Chrysler's excellent two-speed PowerFlite. The other was a new standard engine, the 110-horsepower, 230.2-cubic-inch six previously reserved for Dodge.
It was little enough: Chevy's six was up to 115 horsepower with stickshift or 125 with Powerglide; Ford's new overhead-valve V-8 offered 130.
Plymouth -- and thus Chrysler Corporation -- had a dismal 1954. While Chevrolet sales held relatively steady and Ford, Buick, and Olds all enjoyed substantial gains, Highland Park's breadwinner plummeted by nearly 40 percent, falling below third in calendar year production for the first time since 1931.
To find out about the redesign for 1955, continue reading on the next page.
For more information on cars, see:
Classic Cars

Consumer Guide New Car Search

Consumer Guide Used Car Search