The 1948 Dodge Power Wagon was an all-purpose workhorse with a military upbringing.
Introduced after World War II, the Dodge Power Wagon was Dodge's civilian version of a four-wheel-drive military vehicle that had seen lengthy service in the war. As such, it had strong recognition factors for returning GIs, although it remained a specialized, relatively low-production vehicle, never selling more than about 5,000 copies a year.
In reality, the Dodge Power Wagon was nothing more than the military 3/4-ton 4×4, still with a quasi-military look to it, particularly the grille and fenders.
Sensing a civilian market niche, Dodge had nothing to lose by continuing to produce this Army workhorse, in colors other than Olive Drab. After all, its engineering and tooling had already been paid for by the government and were long since amortized.
Although its engine was a stock 230-cid six, versatility was a powerful selling tool. Dodge called it "the truck of a thousand uses," pointing out more than two dozen tasks for which no other truck would suffice. Its express bed had a nominal one-ton cargo capacity, and four-wheel drive carried it through deep mud and snow.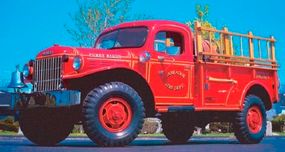 To demonstrate its pulling power, Dodge showed the Power Wagon hauling agricultural equipment, trailers, heavy machinery -- even buildings on skids. Its portable power was unique.
With the winch and tail shaft and appropriate equipment, a Power Wagon could sweep streets, remove snow, stretch wire fences, remove rocks and stumps, operate belt-driven equipment, load logs, hoist pilings, and install pipes.
Alterations over the years were few -- tinted windows and power brakes in 1953, power steering and synchromesh transmission in 1957, an alternator and larger six in 1961, lock-out hubs in 1962.
When it was withdrawn from the U.S. market in 1968, production had reached 95,145. Still, the Power Wagon wouldn't die, for it was destined to soldier on in export markets through the late 1970s. That's greater longevity than the Model T and equal to the VW Beetle.