The 1947-1949 International KB-2 pickup evolved from International's K-series pickup trucks introduced in the early 1940s, but old age didn't hinder its ability to work as hard as any postwar rival.
International built its first car in 1907 and its first truck two years later. Over the years, International's triple-diamond logo became widely associated with tough, hard-working vehicles. In 1952, International could still claim that over half the vehicles it ever built were still in service.
By 1940, International offered more than 50 different truck models, among them the new K-series pickup line, introduced at mid-year. Typical of the era, Ks sported heavy domed roofs and pointed hoods, but headlamps were integral with the fenders -- a rather modern idea for trucks.
After civilian production resumed in 1947, the K-series evolved into the KB, with only minor changes to the 1947-1949 International KB-2 pickup models, though the barrel-shaped grille now sprouted little "wings" at the bottom.
International stuck with this styling until 1950, which was not the most competitive course in a market where rivals were shedding their prewar designs. Still, the company sold more than 122,000 of the 1/2-ton International KB-1 pickups and 3/4-ton International KB-2 pickups between 1947 and 1949.
Power for the 1947-1949 International KB series pickups was provided by the "Green Diamond" six, a 214-cid flathead producing 82 bhp at 3400 rpm and 160 lbs/ft of torque at 1200 rpm. While the peak-torque rpm seems low, consider that the KB idled at only 350 rpm.
With typical undersquare bore/stroke dimensions and 6.3:1 compression, this was no high-performance engine. But it was durable and easy to work on, and that's what counted.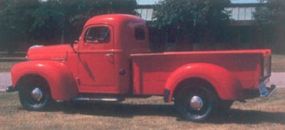 The cab was utilitarian, though it did offer an adjustable bench seat and surprisingly complete instrumentation. A glovebox matched the oblong instrument panel. Compared to other 1940s trucks, this symmetrical layout seemed almost sporty.
International KB-series pickups were available on both 113- and 125-inch wheelbases, with axle ratios ranging from a tall 3.72:1 to more appropriate 4.88:1 and 5.11:1 gearing. Solid axles front and rear were supported by semi-elliptic leaf springs and Lovejoy refillable shock absorbers.