The 1939 Studebaker L5 Coupe-Express was mechanically more advanced than other trucks of the period. It was better-performing than the groundbreaking 1937 Studebaker Coupe-Express, and better looking than the awkwardly restyled 1938 Coupe-Express. What the 1939 Studebaker L5 Coupe-Express did share with the earlier Coupe-Express versions was disappointing sales.
The 1939 Studebaker L5 Coupe-Express retained the basic 1938 Coupe-Express design, including cab and dashboard. In fact, it was a leftover, though the new, low Ford-like grille and front-end sheetmetal from the 1939 Commander passenger car were grafted on.
With headlamps built into the fenders, the fresh sheetmetal gave the 1939 Studebaker L5 Coupe-Express an all-new face, and fixed what made the 1938 model so disliked. In fact, styling is likely what makes the 1939 Studebaker L5 Coupe-Express is the most sought-after of the three Coupe-Express model years.
Despite improved looks and decent performance, the Coupe-Express didn't sell, partly because prices still ran higher than that of "real" pickup trucks, and there just wasn't much demand in a strained economy for a luxury light-duty hauler.
After the dismal 1,000 units of 1938, production rose to just 1,200 for 1939. The writing was on the wall, and Studebaker had already made the decision to drop the car-pickup hybrid even with the 1939 models still in showrooms.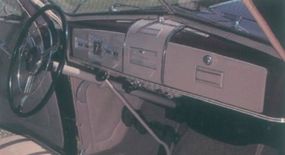 Besides, in 1939 Studebaker launched the Champion line of automobiles, a roaring success that soon occupied most of the South Bend company's attention. Finally, the Coupe-Express suffered from a malady that would eventually doom the Ford Ranchero and Chevrolet El Camino: truck people didn't think it was rugged enough, while car folks tended to prefer a conventional automobile.