Conservatism was the rule at Chrysler as the Thirties rolled to a close. One stab at radical design, in the form of the avant garde but ill-fated Airflow of 1934-1937, was enough. With K.T. Keller firmly at the helm, Chrysler was determined to stick with the tried-and-true, and the result was the 1939 Chrysler New Yorker four-door sedan.
Chrysler's 1938 models had turned from the Airflow and Airstream designs to a transitional motif, featuring a barrel-shaped grille and headlamps mounted in separate pods. A severe recession helped slice sales by nearly half. Among the models offered was a New York Special sedan that customers took to calling the New Yorker -- a name that would become official for 1939.
Ray Dietrich, famed onetime coachbuilder, was responsible for 1939's styling cleanup, completed by Robert Cadwallader. Headlamps moved into the elongated fenders, and the barrel front end was replaced by a lower grille made up of vertical bars. Running boards slimmed down, and the fastback profile helped conceal the trunk.
A column-mounted gearshift became available, and could be ordered with new Fluid Drive -- an oil-filled flywheel that permitted ultra-smooth takeoffs. Fluid Drive would serve as the basis for Chrysler's forthcoming tiptoe-shift semiautomatic transmission.
No less important was the new "Superfinish" process that cut friction by adding a mirror finish to engine and chassis components. The 323.5-cid straight eight, with Stromberg carburetor and Solar Spark ignition, delivered 130 horsepower at 3400 rpm. A high-compression package could boost output to 138 bhp. Inside, the "Safety-Signal" speedometer displayed a trio of warning lights: green below 30 mph, amber at 30-50, and red over 50 mph.
Chrysler's C-23 series consisted of the Imperial, Saratoga, and New Yorker, each on a 125-inch wheelbase. The New Yorker sedan sold for $1298 and weighed 3695 pounds. Two- and five-passenger coupes were also available (606 built). Rarest was the rakish Victoria coupe, of which only 99 were produced by the Hayes Body Company. A mere 239 New Yorker and Saratoga sedans were sold with an optional sunroof. Two-tone brown upholstery, installed in all New Yorkers, was intended to produce "drawing room elegance."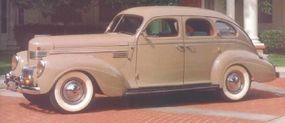 Production rose to 72,443 for the 1939 model year, but that wasn't enough to keep Chrysler from slipping into 11th place. No surprise, perhaps, as GM and Ford came out with restyled bodies, and the Loewy-styled Champion led Studebaker into fourth spot. A total of 10,536 C-23 sedans entered the showrooms.
Harvey Doering of La Palma, California, is the proud owner of this New Yorker sedan, painted in the original Desert Beige. Hailing from Montana, the four-door was stored in the California desert before Harvey bought it in 1981. He owned a 1939 Chrysler Royal in the Forties, but never a collector car.
Harvey performed the restoration work himself, including replacement of interior plastic and meticulous painting of numerals on the back of instrument glass. The body "didn't look bad," Harvey notes, but required much straightening because the fenders "had been dented and not properly fixed."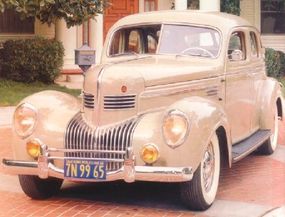 Instead of Fluid Drive, Harvey's sedan has a conventional flywheel with "Cruise-Climb" overdrive. This handsome New Yorker won top honors in the four-door sedan category at the Contemporary Historical Vehicle Association's National meet in 1991.
For more information on cars, see:
Classic Cars

Consumer Guide New Car Search

Consumer Guide Used Car Search