Chrysler's streamlined 1934 Airflow flopped in America, but it was an inspiration to French automaker Peugeot, makers of the 1938 Peugeot 402 B retractable hardtop featured here. With headquarters in Paris and its main plant in Sochaux near the Swiss border, Peugeot is the second-oldest automaker in the world.
In late 1935, Peugeot introduced its tribute to Airflow styling with the model 402. The 402's rounded front with waterfall grille was the sincerest form of flattery. Peugeot took streamlining one step further than Chrysler by eliminating running boards and mounting the headlights behind the grille. Peugeot's streamlining was more than fashion, and the reduced wind resistance improved fuel economy and performance.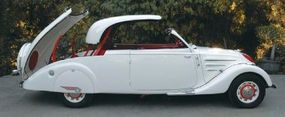 Capping the streamlined grille, Peugeot's lion's-head mascot served not only as an ornament, but also as the hood latch. A second stylized lion graced the rear fender skirts.
Most 402s were sedans, but coupes and convertibles were also offered. The most interesting body style was the Éclipse, which was a retractable hardtop. The metal top flipped under the trunklid for open-air motoring, yet offered the security and weather protection of a coupe when raised. Tops on early models were lowered electrically, but starting in 1937, a simpler mechanical system that could be operated by one person was used.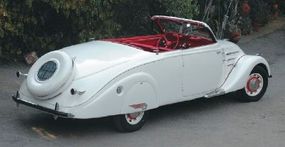 ­Peugeot's retractable hardtop was unique in the 1930s. Ford tried the concept again in the 1950s with the Skyliner, but it wasn't until recently that retractable hardtops found commercial success with the Mercedes-Benz SLK, Volkswagen Eos, and Pontiac G6, to name a few.
Although styling was futuristic, engineering was conventional and lived up to Peugeot's tradition of tough, dependable cars. The Éclipse needed a lengthy 130-inch wheelbase to accommodate a rear deck long enough to swallow the retractable hardtop and to provide room for six passengers on wide bench seats.
Independent front suspension contributed to good ride and handling. Power was provided by a 2.1-liter ohv four-cylinder that developed 63 horsepower. The standard transmission was a conventional three-speed, but the shifter sprouted through the dashboard instead of the floor.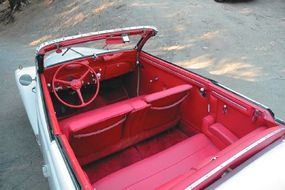 Fewer than 500 Éclipses were built before production ended in 1940. Between 14 and 30 are thought to survive.
For more information on cars, see:
Classic Cars

Consumer Guide New Car Search

Consumer Guide Used Car Search