The 1938 Mercedes-Benz 540K Cabriolet A was part of one of the most impressive series of cars of all time: the 380K/500K/540K built by Mercedes-Benz between 1933 and 1939. These automobiles -- magnificent inside and out -- were a follow-up to the massive Ferdinand Porsche-designed S/SS/SSK models of the late Twenties.
The 380K started out with a 3823-cc (233-cid) straight eight good for 90 or 120 horsepower, the latter with a supercharger, and rode a 123.5-inch wheelbase. The 540K boasted a 129.5-inch chassis and an enlarged 5401-cc (330-cid) overhead-valve straight eight that cranked out 115 or 180 horses.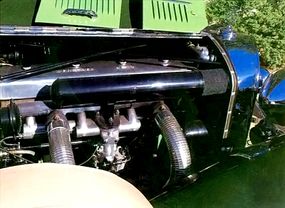 Britain's The Autocar tested a 1935 160-bhp 500K, noting that with the blower on "an almost demoniacal howl comes in. The rev counter and speedometer needles leap round their dials. There is perhaps no other car noise in the world so distinctive as that produced by the Mercedes supercharger." An even more thrilling experience awaited in the 540K. The Motor, Britain's other automotive weekly, drove one in 1937 with the 180-bhp engine, recording 0-60 mph in 15.5 seconds and 106 mph tops.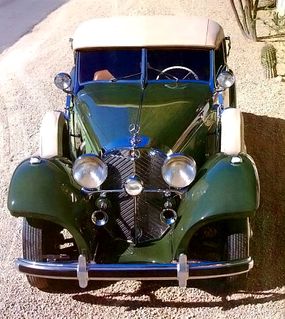 Most 540Ks, whose chassis weighed over 3,400 pounds, were fitted with coachbuilt bodies from Mercedes' Sindelfingen plant, adding a ton to the heft. Interiors were handcrafted, and instrumentation was comprehensive. Available body styles included two cabriolets: a rakish "A," and the more somber "B," with rear quarter windows.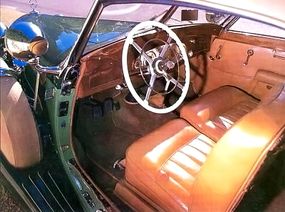 Only a handful of the 1938 Mercedes-Benz 540K Cabriolet A's came to the United States, where they sold for about $12,000 -- close to double the price of a Packard Twelve or Cadillac V-16. In all, only 419 540Ks of all types were built during their four-year tenure, making this Cabriolet A extremely rare.