The 1936 Stout Scarab came about in the early 1930s when William B. Stout, head of the Stout Engineering Laboratories in Dearborn, Michigan, dreamed of rear-engine/rear-wheel drive. "When we finally 'unhitch Old Dobbin' from the automobile," he wrote in Scientific American, "the driver will have infinitely better vision from all angles. The automobile will be lighter and more efficient and yet safer, the ride will be easier, and the body will be more roomy without sacrificing maneuverability."
As an aircraft pioneer -- a creator of the famed Ford Tri-Motor -- Stout also had a yen for aerodynamics. His Scarab, with its flush glass and electric door locks, bore scant resemblance to any car on Depression-era roads. Even Chrysler's futuristic Airflow looked rather tame next to the Scarab's teardrop profile, matched for uniqueness only by the likes of Buckminster Fuller's bullet-like Dymaxion.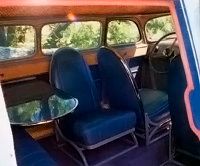 Although the Scarab looked long -- like an old Greyhound bus with postwar "bathtub" Nash overtones -- the dimensions weren't terribly startling. The 135-inch wheelbase was on the long side, but the overall length of just over 16 feet-about the same as a 1936 Pontiac-allowed only minimal overhang at each end. And the rear-mounted engine couldn't be more commonplace: an 85-bhp flathead Ford V-8 hooked to Ford's three-speed gearbox. On a 6000-mile trip, Stout's car got a creditable 18.8 mpg.
Scarab interiors were as unique as their bodies. Only the driver's seat was fixed. All the others could be moved around the big, flat floor-even positioned around a fold-down table if desired.
Ronald Schneider of Milwaukee, Wisconsin owns two of the estimated nine Scarabs built. Both were basket cases, of "junkyard quality" when he found them. Scarabs, Schneider says, were driven regularly by early owners. The one seen here has traveled 150,000-plus miles.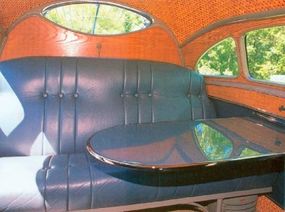 After purchasing his first Scarab in the early 1980s, Schneider spent several years researching the many missing parts before buying another. The second Scarab needed less fabrication work, but Schneider still needed a busy two years to complete its ground-up restoration. "Whatever wasn't missing was worn out," Schneider explains. "Just about anything that could be wrong, was." When finished, he entered the Scarab in the 1989 cross-country Great American Race, and again in 1990.
A Stout ad in Fortune announced that 1936 production would be "limited to 100 cars," with prices starting at $5000. Scarabs actually cost a lot more to build, however, and nearly all of them went to Stout board members, including such notables as Phillip Wrigley and Harvey Firestone.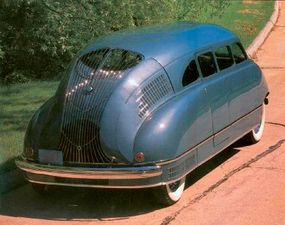 The Scarab "creates a commotion wherever it goes," says Schneider, adding that with all-wheel independent suspension it rides quietly, "exceptionally smooth and stable." Considerably better, in fact, than his 1936 Fords, with much lighter steering. The only serious flaw is limited rearward visibility.
Ahead of its time? Absolutely. Not everyone falls for the unorthodox shape, but they all take notice if a Scarab glides into view. Just a glance at that elegantly fanned rear grillework confirms that the Scarab was -- and is -- something special.
For more information on cars, see: