At first glance, the 1934 Ford DeLuxe Fordor and other Fords didn't look all that different than the 1933s, and Ford ads even boasted that "There is nothing experimental about this new car." But there were some useful engineering changes and an attractive facelift.
On top of that, there seemed to be a new attitude at Ford Motor Company, as old Henry himself took a renewed interest in promoting his cars.
The 1934 V-8 boasted 10 more horsepower, up now to 85 -- the result of trading the Detroit Lubricator carb for a dual-downdraft Stromberg unit mated to a new over/under manifold.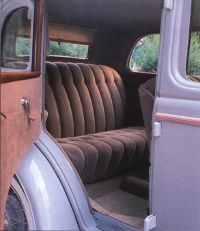 Stylewise, the 1934 Ford featured a reshaped grille with a thicker surround, a more pronounced "V," straight (rather than concave) bars, and a new V-8 emblem.
New also were the hubcaps and straight hood vents rakishly slanted to match the angle of the grille. And for the first time, body-colored fenders were standard (they had been black before).
Those wanting to add a bit of pizazz to an already attractive car popped an extra $40 for the DeLuxe, which came with cowl lights and twin exterior horns. A few bucks more bought the new greyhound hood ornament, providing a touch of class.
Henry had reason to be proud of what he and son Edsel had wrought -- and that a Ford was ready at new-model introduction time for the first time since 1929. In fact, it was a month ahead of the industry.
Encouraged, the Fords hosted a gala press preview on December 6,1933. It was well attended, and the 1934s were well received, maybe partly because Henry -- in one of his famous turnabouts -- allowed alcohol and cigars to be passed around.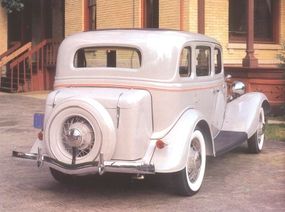 Promoting the 1934s didn't stop there. Henry stepped up advertising, while showcasing the firm's wares in the Rotunda at the Century of Progress world's fair in Chicago. Specially set up flatbed trucks -- and showroom displays -- demonstrated the flexibility of Ford's three-point suspension.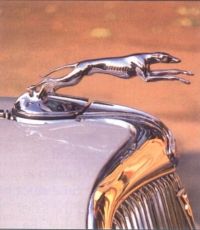 Pitching in, the Ford Dealers of America sponsored Fred Waring and the Pennsylvanians on radio. Touring nationwide, the well-known band paraded in 1934 Fords. Starlet Mona Barrie, after filming Carolina, posed in her bathing suit with a 1934 cabriolet at Lake Arrowhead, California, for all to see.
It was in this upbeat year -- when Ford turned a profit for the first time since 1929 and regained the sales lead from Chevy -- that the $615 DeLuxe Fordor seen here was built. Painted Cordoba Gray, this 1934 sports the desirable greyhound hood ornament and an add-on Potter trunk, which gives the car a longer look. There were 102,268 copies built.
Among those who thought the 1934 Ford just dandy was bank robber Clyde Barrow. In fact, he wrote to tell Henry "what a fine car you got in the Ford V-8." Clyde (and companion Bonnie Parker) died in a 1934 Fordor, but luckily the beautiful 1934 Fords live on.