It's a wonder there ever was such a thing as a 1932 Austin-Swallow. Sir Herbert Austin launched the cheap and simple Seven model in 1922 to wrest sales from the light cycle-cars and sidecar-equipped motorcycles then wooing budget-minded British motorists. That same year, William Lyons and William Walmsley began producing stylish sidecars in the shops of their Swallow Sidecar Company.
Rather than canceling one another out, each firm wound up benefiting from the efforts of the other -- even if the association was somewhat at arms' length. Swallow coachwork lent a fashionable air to the Seven that wasn't available in the standard factory bodies; the chance to build car bodies opened new doors for Swallow and led, ultimately, to the establishment of the Jaguar marque.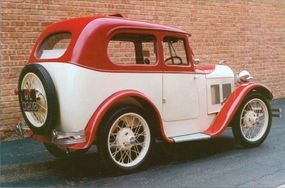 The Seven debuted as a "tourer" with room for two adults and two children. It featured four-wheel brakes (with separate front- and rear-wheel activation) and a transverse spring in front with quarter-elliptics in back. The L-head four-cylinder engine displaced 696cc, but after the first 100 cars were built the engine was enlarged to 747cc.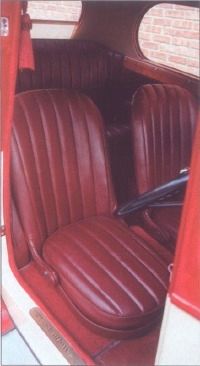 In time, other body styles were added and styling was updated. Starting in 1930, all four brakes were activated by the same pedal. Wheelbase grew to 81 inches during 1931. Approximately 375,000 Sevens were built through 1939.
The first swoopy, hand-formed aluminum-over-wood Swallow roadster bodies appeared on Austin Seven chassis (procured from individual dealers) in 1927. The following year, a two-door sedan body was added. Aside from distinctive lines and splashy paint schemes, Swallow also added a bolder, barrel-like grille shell. It's estimated that Swallow produced about 800 roadster and 1,700 "saloon" bodies for the Seven through 1932.
Peter Fino, Jr., of Itasca, Illinois, owns the restored 1932 Austin-Swallow shown here. It bears such Swallow touches as a Houbigant "ladies companion set," chrome cowl ventilators, rear-window shade, and smoker's vent in the roof.
For more information on cars, see:
Classic Cars

New Car Search

Used Car Search