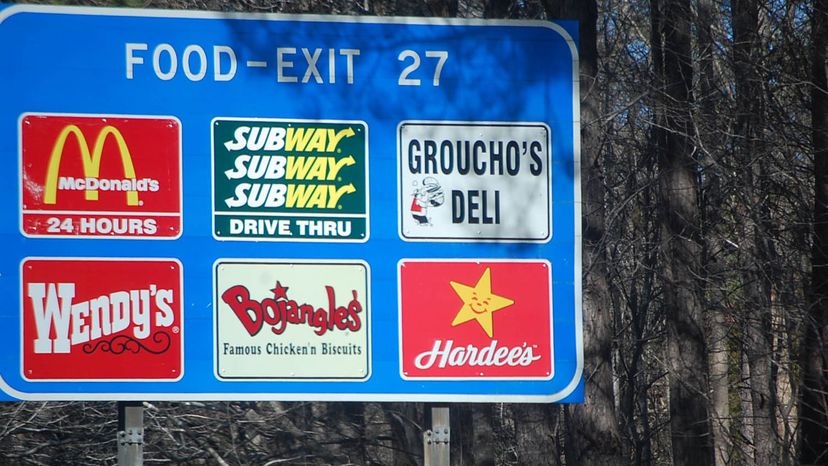 There's stiff competition to be featured on one of those squares on your typical blue highway sign.
Daniel Barcelona/Wikimedia Commons/(CC BY 3.0)
If you've ever driven on an American highway you know them: They're the big blue signs near interstate exits showing travelers the nearest gas, food and hotel or motel options. They're officially called "interstate logo signs" or "specific service signs."
But the places featured are not random. Scoring a spot on these signs boosts profits for many companies – and for the states that control them. Tennessee nabs about $8 million per year and Virginia gets about $6 million, the Bristol Herald-Courier reported in 2019.
"All highway signs serve a specific purpose and their color is how you can easily tell what the sign's purpose is – direction, information, regulations, etc.," emails Jeni Campana, spokesperson for the Nebraska Department of Transportation. "These signs in particular are blue or informational signs. Regardless of what state you drive through, if you see a blue sign, it's going to provide helpful information to motorists as they travel along their way."
There are three basic types of blue logo signs:
Mainline: That's the first one you see. It lets you know certain services are nearby.

Ramp: This is closer to the exit and indicates whether you turn right or left at the end of the off-ramp; businesses that are clearly visible from the exit may not qualify for a ramp sign.

Trailblazer: This last and smallest sign is placed at each corner where drivers should turn to reach the business.
Who Makes the Cut?
Only certain types of business can advertise on the logo signs. Mark Nagi, a spokesperson for the Tennessee Department of Transportation, says those categories are gas, food and lodging near the freeway exit. "The Attraction category was added later for tourist attractions," he says by email. "In general, they need to be within 5 miles [8 kilometers] of a freeway exit, except Attractions can be within 15 miles [24 kilometers] and be open to the general public normal business hours."
Each state sets its own criteria for being listed, but normally, the businesses listed must have public restrooms, drinking water and public phones. Those that are open around the clock sometimes get priority over those that are open for fewer hours of the day. Distance from the highway may count in some states too. In Florida, for instance, priority is given to businesses less than 3 miles (4.8 kilometers) from the exit, though those up to 6 miles (9.6 kilometers) from the exit are eligible for inclusion.
Attractions like museums, wineries, agritourism sites and zoos are eligible for sign placement too but not churches, movie theaters and adult-oriented entertainment venues.
Applying to be featured is easy. You fill out a form online. But nabbing a spot is another story. Some businesses wait for years to get a spot in some urban locations, reports the website 99PercentInvisible.
"In the urban areas it can be difficult to secure a spot on the blue motorist service signs (logo signs) because they often fill up to capacity," says Tracey Bramble, an information specialist for the Iowa Department of Transportation via email. "There is a limit of six spots on the signs."
She adds that all signs have to be spaced at least 800 feet (243 meters) apart and must be placed directly in advance of the interchange where the businesses can be accessed. Green-and-white guide signs (i.e., cities, highways, major destinations of interest) have a higher priority classification, so where interchanges are designed closely together, there may not be enough room to install the blue logo sign and still maintain the 800-foot spacing required.
Even if space is available, it can be pricy. In Nebraska, for example, it's $1,200 per year, per sign – so if you want to cover exits in both directions, it would cost you $2,400 per year. In Tennessee, the price is around $900 in urban areas and $650 in rural locations per direction. New Jersey can be as high as $2,400 in each direction. If you're a nonprofit organization, you'll receive a discounted rate in some states.
But in some rural states, the blue signs often feature plenty of open spaces, causing drastic price declines. In Iowa, you can snag spots for as little as $230 in the right areas, according to Bramble.
"In Iowa, the fees charged are not comingled with other road user fees but are earmarked specifically for outdoor advertising control purposes (including the administration of the logo signing program)," says Bramble. "Some states hire private contractors to run the program, who are then allowed to set their own price structures. Iowa has retained its 'state-run' program and has avoided raising fees since 1996."
Interstate Logos is the biggest private contractor, handling the fabrication and installation process for over 20 states around the country. It makes most of its money from the sign permits, but it also actively markets any unfilled spaces in hopes of filling any blank spots on those big blue signs. Nagi says that the Tennessee Dept. of Transportation gets 80 percent of the gross revenue from the contractor it uses.
Prices for businesses can and do change once a contractor takes over. In New Hampshire, for instance, the annual fee rocketed from $500 to $1,800 per sign, drawing ire from some businesses, according to a local newspaper.
The Beginning of the Blue
States initially began deploying these signs to provide valuable and accurate motorist service information for the traveling public.
Decades ago, the signs took on even more importance as Americans began to decry the overuse of billboards. So dense were these unsightly clusters of commercialization that President Lyndon B. Johnson signed the Highway Beautification Act in October 1965, which limited billboard and other outdoor advertising.
States also took it upon themselves to reduce the number of billboards along their roadways. Vermont took things even further, banning billboards outright, along with Maine, Hawaii and Alaska.
With limited billboard opportunities, companies still needed a way to get the word out. So, states compromised. Enter the big blue signs. They provide smaller businesses a feasible way to market their service at a cost much lower than billboards. And thanks to their standardization, they're easy to read as you're zipping by at 70 mph (112 kph).
"All the logo signs help to reduce billboard clutter and provide smaller businesses a feasible way to market their service at a cost much lower than billboards and [are] easier to read," says Nagi.