The huge sales success of the 1965 Ford Mustang was a key factor in launching Trans-Am racing, which was staged on demanding road courses from coast to coast. But people love a good fight, so attendance and media interest didn't really take off until rival pony cars appeared to chase Mustang on the racetrack as well as in the showroom.
In its early years, the Trans-American Championship -- Trans-Am for short -- was home to some of America's most exciting, hard-fought automobile racing. Inaugurated in 1966, it was conceived by the Sports Car Club of America as a professional series for sports cars and Detroit's popular sporty compacts, though initial publicity referred only to "sedans."
At first, there were two classes based on engine size. Most foreign models ran in the under-2.5-liter category, while larger cars like Mustang were allowed engines between 2.5 and 5.0 liters. Rules mandated safety roll cages, minimum racing weight, fuel tank size, and other requirements but allowed liberal tinkering with the stock suspension and powertrain.
SCCA specified minimum production of 2500 units for a given model, at least 500 for basic engines, and only regular-production body modifications like speed-enhancing spoilers. In other words, to run a car in Trans-Am, you had to make a street version to sell the public. Like NASCAR in those days, SCCA knew it could move more tickets if the cars on the course looked a lot like cars people could actually buy.
With hardly any competition on or off the track, Mustang was the easy first-season champion in its class, with Jerry Titus the winningest driver. Ford bagged a second class crown in '67, spending bigger bucks for a squadron of teams with big-name pilots running race-prepped Mustangs and Mercury Cougars, though Titus again took home the driver's trophy.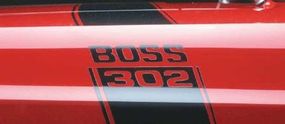 The next two years belonged to archrival Chevrolet and its purpose-engineered Chevrolet Camaro Z-28. But Ford's prospects got a huge boost when Bunkie Knudsen came over as president, determined to regain the title from old employer and new corporate foe, General Motors.
Sparing no expense and marshaling all available resources, Knudsen fast-tracked the Boss 302 as Dearborn's new warrior, and gave veteran team manager Bud Moore virtually unlimited funds for testing, prep, mechanics, and drivers. Ace pilots George Follmer and Parnelli Jones re-upped for a season that saw most every pony car on the starting grid.
The battles were fierce, as the Boss had to take on factory-backed Dodge Challengers and Plymouth Barracudas as well as the formidable Z-28s, Pontiac Firebirds, and even some AMC Javelins from little American Motors. It was the ultimate in "horse racing." When it was all over, Mustang was back on top again, scoring six victories, five at the skilled hands of Parnelli Jones.
Amazingly, Ford then quit all forms of racing, and interest in the Trans-Am began to wane along with the pony car market. Eventually, the series was put to rest. Though SCCA has lately revived the name, today's Trans-Am cars are much less stock than the original racers, and the series draws less manufacturer support and public notice.