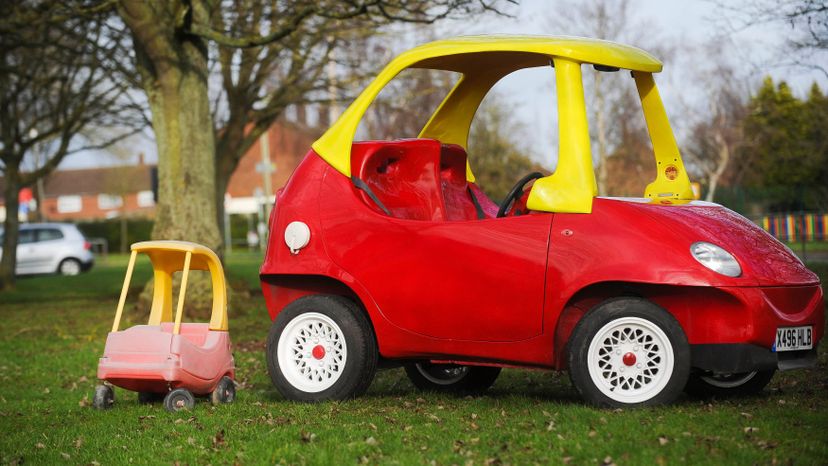 In 2013, John Bitmead of Attitude Autos in tiny Ambrosden, England, was ready for a fun, new project. Since his company is a vehicle restoration and fabrication business, building a road-going kids' toy seemed like a good idea, and the classic red and yellow Little Tykes Cozy Coupe seemed like the obvious choice — to most people. But not to Bitmead.
"Until about a week before we embarked on the idea, I had no idea what one was — to the gasps of all assembled!" he says via email. Once a friend explained the little plastic car to him, Bitmead could see the finished project in his mind.
He worked on the project for 17 straight weeks — far longer than the month he'd allotted — and spent about 6,000 pounds ($3,800), not including labor. He based the Crazy Coupe on a Daewoo Matiz (a model sold now as the Chevy Spark). It's got a 0.8-liter engine with a manual transmission, and while there are two seats, just like the original toy, it only has one door.
In being true to the original, it's also missing windows and a windshield. "In minus 2 degrees Celsius [28 degrees Fahrenheit] with no form of heating, there were times when I regretted sticking so vehemently to my guns!" Bitmead says.
It is fully legal to drive the Crazy Coupe in the United Kingdom, and it's covered about 5,000 miles (8,047 kilometers) in its short life.
"I can categorically say not a single mile has gone by without me thoroughly enjoying it and the reactions that it creates," Bitmead notes. Many of those miles were driven to and from events to raise money for children's charities, where one can imagine the audience was appreciative. While the Cozy Coupe toy is made in the U.S., it's hugely popular in the U.K. as well, according to Bitmead. (He's an uncle several times over, though not a father, which doesn't quite explain how he'd never seen one of these things before beginning this project.)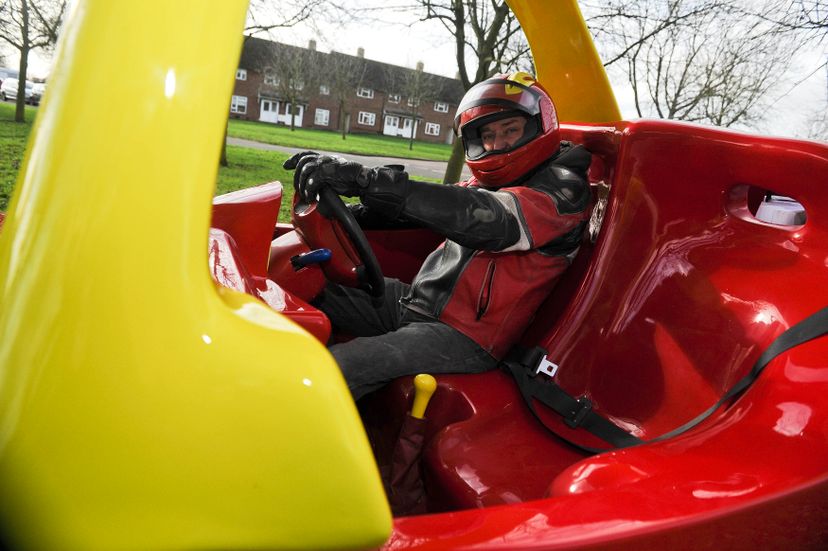 The Crazy Coupe has a top speed of 75 mph (121 kph), though Bitmead has seen the needle touch 80 mph (129 kph) on a downhill slope. The aerodynamics are so terrible that Bitmead says he can't leave the transmission in fifth gear; the car can't push through the air in front of it. So he leaves it in fourth gear and gets about 30 mpg (7.84 liters per 100 kilometers). While he calls the horsepower "negligible," he notes that it turns in "an impressive 0-60 time of around 17 seconds."
But recently Bitmead put his Crazy Coupe up for sale on eBay. Bitmead's new project, the "Addams Family"-themed Crazy Camper motor home, requires funds to complete it. It wasn't easy for Bitmead to sacrifice the Crazy Coupe. "I will be very, very sad to see it go," he says. "I'm still not sure that it's the right decision, but needs must."