Using Kelley Blue Book Online: Value Type and Features
At the next page, we're given a choice of the kind of value we want to see: trade-in, private party, or retail.
On the next page, we'll select the version of the car that we're looking to sell.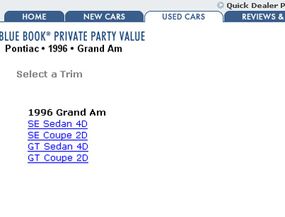 Next, we'll select the engine and transmission, and enter the mileage. We will also need to enter the zip code of the area where we plan to sell the car. Regional market differences can shift the car's value, so the zip code is important.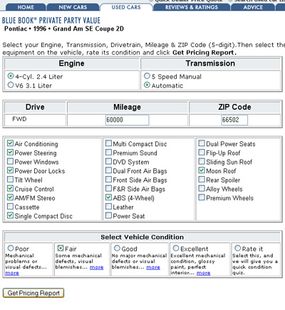 On this page, we can also select the different options that have been installed on the car. These only include factory-approved or factory-quality optional equipment. If the car has additional equipment installed by the owner, Kelley may not include it. This equipment will also affect the car's value, though.
If the car had equipment that doesn't work, we can check that option. In this case, we should also deduct the cost of repairs from the value. For example, if the car had air-conditioning that didn't work, we would check off air-conditioning, but subtract $50 to $100 or more for the cost of repairs.