Using Kelley Blue Book Online: Car Selection
­Since its launch in 1995, the Kelley Blue Book Web site has become one of the most visited sites on the Internet. At first, visitors had to pay a fee to find car val­ue information on the site, but that lasted only a few weeks. Now information on new and used cars (which currently goes back 20 years) is free. The Web site is even easier to use than the guides are.
For new cars, click the "New Car" tab and select the manufacturer and model you're looking for. Then choose the year. (Since these are new cars, it will be the most recent model year, although the two most recent years might be available if the new models just came out.) If different versions of the car are available, choose the version that you want. For example, a car may be available as 4-door or 2-door, or there may be a special edition. The Web site then shows you the MSRP, the dealer invoice price, and the "Blue Book Price" that represents actual prices people are paying for the car nationwide. If you put in your zip code, you'll also get a list of nearby dealers that have the car for sale.
Searching for the value of a used car has a few more steps, but it's still very simple. Suppose we're interested in selling a 1996 Pontiac Grand Am to a private party.
First, we'll click on the "Used Cars" tab. Then, under "Get Blue Book Values," we'll select the year, make and model of the car from the drop-down menus.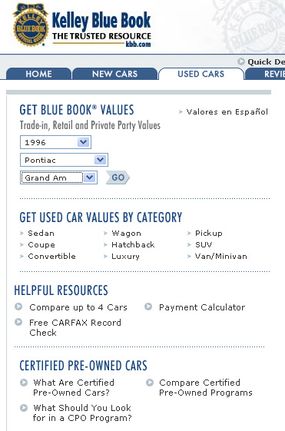 In the next section, we'll look at choosing the type of car value and sorting by the car's features.