The Ford Mustang 25th Anniversary Celebration
With the icon in the middle of a popular run, many fans expected Ford to come out with a high-performance Mustang on its 25th anniversary in 1989. But news of such models turned out to be nothing more than rumors.
Shortly before the actual April 1989 anniversary of the launch of the original 1965 Mustang, a Ford spokesman told AutoWeek why there wasn't a silver-anniversary Mustang model for Mustang's silver anniversary.
"First, we wanted to do more than a paint and stripe job. If we couldn't do a proper vehicle, we weren't going to do one at all. Second, the company doesn't feel that it would be honest to put its name on someone else's work" -- meaning the hot-rod Mustang proposed by longtime Ford contractor Jack Roush.
"We never really considered that car," the Ford man said, "because we felt that it was overkill." In fact, AutoWeek noted, "Ford never considered going outside for [any] help with the anniversary Mustang."
Still, it's fair to ask, was a golden marketing opportunity squandered through poor planning? Was it really better to do nothing if a "proper vehicle" wasn't possible?
Mustangers still debate the answers, but they were certainly disappointed at the time. Ford's only gesture at a 25th Anniversary Mustang was small indeed: a passenger-side dashboard emblem with galloping-horse logo affixed to all models built between March 27, 1989, and the end of model-year 1990.
Party Time
Of course, a milestone Mustang birthday was too important for Ford marketers to ignore, and they didn't. Highlighting the celebration was the American Pony Car Drive, a six-week, 7000-mile coast-to-coast trek involving over 100 European Mustang owners and their cars.
Convening at the port of Jacksonville, Florida, participants headed west to Southern California for a big all-Dearborn classic-car show, "Fabulous Fords Forever." This was staged on Sunday, April 16, just a day shy of 25 years from the original New York World's Fair debut.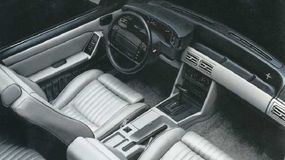 Ford's only change to the car for Mustang's 25th anniversarywas an almost imperceptible emblem on the dashboard.
The group then headed back east toward Dearborn for a tour of the Mustang plant and other festivities. From there it was on to Baltimore and a boat back home. Along the way, the Pony Car Drive stopped in some 25 cities, where local Mustangers rolled out the red carpet. Some individuals even joined the rally, which had been suggested by a Mustang enthusiast in Switzerland.
Sorry, Lee
That same April Sunday, Ford threw a big birthday bash at the Dearborn plant, which had recently built the six-millionth Mustang. The party generated wide media coverage, including a Wall Street Journal piece on the rather touchy matter of inviting the Mustang's "father," who by then was chairman of Chrysler.
The story quoted a Ford official saying the company came very close to asking Lee Iaccoca, "but we just couldn't bring ourselves to do it." Instead, the Journal reported, "Ford relied on surrogate fathers. The main was one Jack Telnack [who said] 'I'd like to stand here and tell you I was the father' of the original Mustang, 'but my biggest contribution was designing the wheel covers.' So, he was asked, who was the father? 'Well, there were several…Joe Oros and Dave Ash, who headed its design. There was a team of six or seven product planners, including Don Petersen.... And then there was Lee Iacocca.'"
Ford Chairman Petersen himself gave Iacocca a "more generous mention" in Southern California, the Journal quoting him as saying, "Fortunately, Lee Iacocca kept our spirits up" early in the program.
Typical of the man, Iacocca got in a little dig at his old outfit. As the Journal reported: "Ford feared that [he] might have stolen the spotlight and hawked Chrysler products. In fact, that's exactly what he did in a short prepared statement on the anniversary. 'Just like our minivans,' Mr. Iacocca said, 'the Mustang pushed all the right buttons for the customer.'" The story concluded on an amusing note. "One Ford official put the reason for not inviting Mr. Iacocca this way: 'Hell, he might have come.'"
But fans still longed for an anniversary model, and many adopted a heavily customized Saleen as the unofficial one. Find out about the 1989 Saleen SSC Mustang on the next page.