1987 Ford Mustang Engines and Acceleration
The most noteworthy mechanical alterations to the 1987 Ford Mustang involved the venerable small-block V-8, no surprise, as it was pulling even with the 2.3-liter four in customer preference.
A return to freer-breathing, pre-1986 cylinder heads and other induction changes added 25 horses for a total of 225, thus matching the top Chevy Camaro/Pontiac Firebird option, a 5.7-liter Corvette mill. Torque also improved, swelling to a stout 300 pound-feet. The 302 remained standard on GTs. Ford called this the "5.0-liter," but its actual displacement was closer to 4.9 liters. GT also received larger front-disc brakes (10.9 inches versus 10.1) and recalibrated suspension.
The four-cylinder engine wasn't overlooked for '87, exchanging a dull one-barrel carburetor for state-of-the-art multipoint electronic fuel injection. Though the engine was little more potent at 90 horsepower and 130 pound-feet of torque, it now teamed with the V-8's five-speed manual and optional four-speed automatic transmissions. That was compared to the previous generation's four-speed stick and three-speed automatic. The new gearboxes helped maximize what grunt the four-cylinder had.
A big surprise was deletion of the 3.8-liter V-6, leaving a huge power and performance gap between the four and V-8. With that, Consumer Guide®'s Auto 1987 predicted, "Ford plans on selling mostly V-8-powered Mustangs this year."

A growing number of Mustangers took their V-8 in one of theless-showy LX models like this 5.0 notchback.
Ford did, only a lot of them were LXs with an $1885 V-8 package that also included the GT's uprated chassis and tires. In fact, demand for 5.0-liter LXs proved so strong that Ford ran short of engines during the '87 season. Buyers were told that if they wanted a V-8 Mustang, it would have to be a GT.
There were reasons for this. Many people thought the new GT either too ugly, too outlandish, or both, which must have dismayed Jack Telnack. Others simply preferred their V-8 in the quieter-looking LX because it was less likely to be noticed by the law. Besides, it cost less that way.
1987 Mustang Acceleration
LX or GT, the fortified small-block delivered straight-line performance reminiscent of the good old days. Ford claimed 0-60 mph took 6.1 seconds with manual shift, and most magazine tests got close to that.
AutoWeek, for example, clocked 6.5 seconds, "well into Corvette, Porsche 928S and Lotus Turbo Esprit territory. Two years ago it was about a second slower. Top speed of the new Mustang GT has also risen from the mid 130s to just under 150 mph. Not only is that faster than the high-tech coupes from Toyota, Nissan and Mazda, it beats Ferrari's [V-8] Mondial and closes in on the [six-cylinder BMW] 328. This is the cheapest car in America that will even come close to the revered one-five-oh."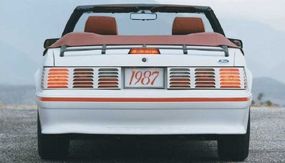 Straight-line performance recalled the days of yore, although not everyonewas a fan of the cheese-grater taillights.
Obviously, new technology was allowing Ford (and others) to deliver the kind of performance that had previously been achieved only through big displacement. For example, to get around 225 net horses in, say, a '72 Mustang, you had to order an optional 351 V-8 rated at 168-275 net horsepower. Yet the '87 small-block was thriftier and smoother running, needed less upkeep, and was more reliable--pure, unadulterated progress.
The Mustang had plenty of show and go, but there was more. On the next page, read some of the raves from reviewers about the '87's handling prowress.