The 1993 Ford Mustang Cobra
Ford Mustang sales hit an all-time low in 1992, and the current generation was starting to get long in the tooth. But the economy started to perk up by model-year 1993, and Mustang sales rebounded to 114,228. In a way, this shouldn't have happened.
Mustang was virtually unchanged, yet now faced a swoopy all-new Camaro/Firebird offering a 275-horsepower version of the latest 5.7-liter Corvette V-8. Worse, having admitted to literally overrating the Mustang V-8, Ford adjusted outputs down to 205 horsepower from 225. Torque decreased, too.
But a hot new Cobra hatchback more than made up for that. Road & Track called it the "best of an aging breed," and by most any measure it was.
Developed by Dearborn's new Special Vehicle Team (SVT, the successor to SVO), it packed a new higher-output Cobra 302 producing 235 horsepower via special big-port "GT40" heads, tuned-runner intake manifold, revised cam, and other muscle-building measures. Torque, a stout 285 pound-feet, was channeled through a beefier five-speed manual gearbox -- the sole transmission choice --and corralled in corners by sticky 245/45ZR17 Goodyear Eagle performance radials.
Also on hand, or rather under foot, were rear disc brakes instead of drums, the first factory Mustang since the SVO to have them. Ford also touted "balanced" suspension tuning that went against conventional hot-car wisdom by using softer springs, shocks, and bushings and a smaller front stabilizer bar versus the GT.
Interior furnishings were basically GT stock, while the exterior was almost LX modest. Spotter's points included SVO taillamps, handsome seven-blade alloy wheels -- and specific nose with a small running-horse emblem. An hefty rear spoiler was the one arguably jarring note to this speedy, sophisticated package.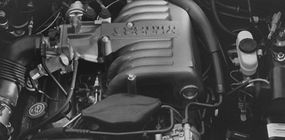 The Cobra 302 engine produced 235 horsepower via special big-port "GT40"heads, tuned-runner intake manifold, and revised cam.
Did we say speedy? Try 5.9 seconds 0-60 mph, according to R&T, whose test Cobra also clocked 14.5 seconds at 98 mph in the standing quarter-mile and less than 16 seconds from 0 to 100 mph.
As for sophisticated, Car and Driver's Don Schroeder termed this "a nicer-riding, more supple car [than the GT]. Although it can feel less buttoned down...the Cobra makes better use of its tires and rewards coordinated hands and feet with clearly higher limits and cornering speeds...."
Nevertheless, a few cynics thought this Cobra just a ploy to keep Ford's old pony car from being completely eclipsed by GM's newer Chevrolet Camaro and Pontiac Firebird. Motor Trend, in fact, called it a "shake-and-bake bridge to '94." Still, it was eloquent testimony to the Fox platform's stamina and versatility. And with only some 5000 built, the '93 Cobra will be a prized example of this long-lived breed.
The 1993 Ford Mustang Cobra R
More collectible still is the Cobra R, which saw only 107 copies. Of course, the "R" stood for racing, which meant track use only. Alterations to the street-legal Cobra included much larger front brakes, competition-caliber cooling system and suspension tuning, appropriately wider wheels and tires, and added structural reinforcements.
In yet another echo of Carroll Shelby, Ford omitted the back seat, air conditioning, and most power accessories to trim curb weight by some 60 pounds. not much on the road but crucial for the track. Ford sold every R-model for the full $25,692 sticker price vs. about $20,000 for a regular Cobra, itself a bona fide bargain.
At Long Last, Time to Move On
Either way, the '93 Cobra was a happy surprise for the Ford Mustang, a car that had stayed so much the same for so long. Life at Ford had been anything but static. Another historic changing of the guard occurred in 1990 when Donald Petersen took early retirement, ushering in Harold A. "Red" Poling as chairman and Philip E. Benton, Jr. as president.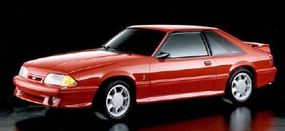 Though the R model was for racetracks only, the standard Mustang Cobrawas street-legal.
By the end of 1993, however, Alex Trotman had taken over both positions, outlining a bold new vision for Ford's future. Part of that future would soon arrive in the car everyone had been waiting for: the next new Mustang.
For even more on the Ford Mustang, check out the following links.
Saddle up for the complete story of America's best-loved sporty car. How the Ford Mustang Works chronicles the legend from its inception in the early 1960s to today's all-new Mustang.

When the going gets tough, the tough go racing in Mustang Country. Find out how a return to geniune performance brought solid sales and profits in 1982-1986 Ford Mustang.

A stronger, sleeker, more agile new Mustang arrived in time for the icon's 30th anniversary. 1994-1998 Ford Mustang tells the story of the best Mustang in years.
The 1970 Ford Mustang Boss 302 was a Chevrolet Camaro Z28 fighter. Learn about this unique muscle car, and see photos and exclusive specifications.