The 1992 Ford Mustang
As it had been since the 1988 model year, the pace of change was slow for the 1992 Ford Mustang. In the only news of note, color-keyed bodyside moldings and bumper rubstrips enhanced LX appearance. And wonder of wonders, those old optional favorites, whitewall tires and wire-wheel covers, vanished from the list.
But sales now really tanked, hitting an all-time low of just 79,280 units for the model year. The only comfort for Ford was that the Chevrolet Camaro and Pontiac Firebird had been sinking even faster, allowing Mustang to stretch its sales lead. More telling is the fact that even in a slump, Mustang was consistently outselling the Probe, its one-time replacement.
Though you might think otherwise, Mustang's "vintage" character had actually become a sales asset. Buyers were starting to lose interest in high-tech sporty imports, perhaps because they were all so much alike. But Mustang remained unique: big, bold, and brash, old-fashioned and flawed certainly, but mighty appealing for precisely those reasons.
By standing still, as it were, Mustang now stood alone. This unique character came through clearly in two 1989 "buff book" tests.
Running a new five-speed LX 5.0 hatchback, Motor Trend praised "its limitless supply of rich, creamy torque at any rpm, and all the wonderful things that it made possible."
That comment came in a "Bang for the Buck!" showdown of 16 contestants, including the Plymouth Laser RS Turbo, Nissan 300ZX, Ford's own supercharged Thunderbird, and even a 245-horsepower Chevrolet Corvette.
In acceleration, braking, and handling, the Mustang finished as high as fourth only in quarter-mile performance, with an ET of 15.38 seconds at 91.5 mph (a 20th Anniversary Pontiac Trans Am turbo was fastest with 14.18 at 98.8 mph). Mustang was mid-pack or lower in the skidpad, slalom, and road-course contests, and dead last in braking, taking 159 feet to stop from 60 mph (the 300ZX was shortest, 120 feet).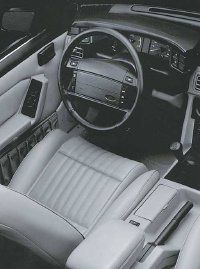 A new four-way power driver's seatjoined the options list for 1992.
But with a base price of only $12,765, nothing could match its all-round performance for the money, and MT declared it the winner. "Mustang truly defines the concept of Bang for the Buck. It's probably the most fun for the money in America today."
In a similar vein, the July 1989 Car and Driver gathered up eight sporty coupes to answer the question, "What's the most fun you can have for $20,000?"
All the cars were Japanese built or designed save a five-speed LX 5.0, which finished fourth in cumulative rankings of performance, ergonomics, styling, utility, and driving fun. Though not the most polished contender, the LX was the most affordable -- and the quickest, running 0-60 mph in 6.2 seconds and the quarter-mile in 14.8 at 95 mph.
A Mitsubishi Eclipse GS Turbo won this showdown, but it cost $16,000 and was only two mph faster than the LX all-out. "If the Mustang sold for $20,000, we would probably be put off by its age and accompanying disadvantages," C/D concluded. "But at $13,671, including a generous load of creature comforts, the LX 5.0 is an incredible performance-car bargain."
Mustang was selling on performance more than ever. Among '91s, for example, V-8s outpolled four-cylinder models by two-to-one, with LXs accounting for almost half. Moreover, fully 49 percent of V-8 buyers chose five-speed manual transmission, a very high rate for an American car. By contrast, manual transmission accounted for just 13 percent of '91 Camaro sales and only 30 percent of Corvette's.
By 1992, the current Mustang generation was getting a little old for a pony. The run ended on a high note in 1993 with the Cobra, detailed on the next page.