Ford Mustang Survives Probe
With Mustang sales once again strong in the mid-1980s, Ford execs wanted to make sure they stayed ahead of any changes in consumer tastes. To keep momentum going, they decided a redesign was in order for the late '80s.
As it happened, work toward that car had been underway since early 1982, just as the reborn GT and H.O. V-8 were starting to rekindle the old Mustang excitement. Initiated as project SN8 -- "sporty car, North America, 8" -- this effort envisioned a smaller, lighter pony like the old Mustang II or European Capri, but with aero styling, front-wheel drive to optimize interior space, and high-efficiency four-cylinder engines instead of a thirsty low-tech V-8. Unfortunately, early proposals around this concept did not suit decision-makers.
So just a year into the program, Ford turned to longtime Japanese partner Mazda, whose small-car expertise was at least equal to Ford's own.
Dearborn went calling at an opportune time. Mazda was then planning the next version of its front-drive 626 series, which included a coupe, one of Mustang's new-wave rivals. Ford figured to save money and get a better new Mustang by joining in. The result would be two models, each with its own styling identity and sales networks, but sharing basic chassis, running gear, and some inner structure.
The idea became even more attractive once Mazda decided to build a plant in Flat Rock, Michigan, near the historic River Rouge factory where Mustangs were made, and to make part of its output available to Ford.
It seemed a match made in heaven. Ford would get a new Mustang for far less money than by developing it alone. Mazda also liked the economics (the yen was very strong against the dollar) as well as the deal's "politically correct" image. With "Japan Inc." taking ever-larger chunks out of Detroit's sales hide, Congress was threatening protectionist legislation that the Japanese hoped to forestall with "transplant" factories employing U.S. workers.
Probe Shot Down
What Ford hadn't counted on was the near-universal outrage among Mustang fans once word of the plan leaked out. A new Mustang was a good thing, even overdue. But Japanese engineering? No way!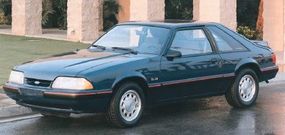 As before, the stealthiest way to go fast in an '87 Mustang was to optionan LX with the $1885 V-8 package, as in this hatchback.
Mustang was an all-American icon. How dare they put the name on a "badge-engineered" import. And looky here, Ford. Front-wheel drive may be OK for little econoboxes, but real performance cars put power to the pavement with the back tires.
Dearborn got the message and released the "626 Mustang" (which Mazda sold as the MX-6) as the 1989 Probe (named after Ford's recent series of aerodynamic show cars). The decision wasn't made until the last minute, but it was both wise and correct.
Though capable and spirited in turbocharged GT form, the Probe was too just "foreign" to pass as a pony car -- an American invention, after all -- even if it was styled in Dearborn.
Meanwhile, rising demand had convinced Ford to rejuvenate the aging Mustang, something it could well afford amid record profits. The aim was not just bringing the old warrior in line with the new design theme but to make it more competitive in an increasingly tough sporty-car market, especially against the newer Chevrolet Camaro and Pontiac Firebird.
The result was a thoroughly new car, inside and out. Find out all about the changes for 1987 on the next page.