On the pages devoted to the Toronado XSR Coupe in a 1977 catalog, Oldsmobile asked, "Can we build one for you?" It turns out they meant exactly that -- one.
The XSR was a 1977 Toronado sent to American Sunroof Corporation (ASC) for a T-top conversion. This was no typical conversion, but a power T-top with glass panels that slid under a wide center bar.
Oldsmobile had high hopes for the car. Not only did an airbrushed XSR share the cover of the Olds "big-car" brochure, but it was also featured on a two-page spread inside. Ultimately, though, the top mechanism was judged to be too troublesome, so the only XSR ever built was the prototype.
Instead, Olds produced the Toronado XS, an XSR with a conventional tinted-glass sunroof in place of the T-top. Both shared an unusual wraparound rear window often compared with Studebaker Starlight coupes. Using hot-bent-wire technology to form sharp corners, the glass wrapped from B-pillar to B-pillar.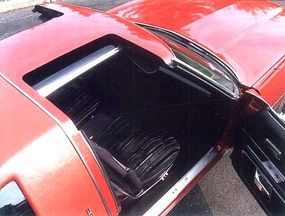 Otherwise, the XS, and for that matter, the XSR, were standard Toronados. With the downsizing of Olds' full-size models in 1977, Toronado became the biggest Oldsmobile, weighing at least 4,747 pounds and with an overall length of 227.5 inches.
The 455-cid V-8 of yore was replaced by a 200-horsepower, 403-cid V-8. The XS sold for $10,684, or $2,550 more than a base Toronado Brougham. First-year production was 2,713; another 2,453 were made for 1978.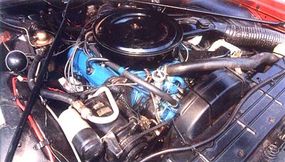 ASC bought back the lone XSR in 1978. It hoped to sell other manufacturers on the "electric, self-storing T-top" but had given up by 1981. The XSR was then sold and disappeared into the used-car market.
The Firethorn Red T-top Toronado featured here is driven in good weather; the prototype top lacks a drain and leaks in the rain.