By the time the 1976 Pontiac Firebird Trans Am hit the market, Trans Ams had found their niche. Despite ever-higher prices, output rose again as Pontiac sold one Trans Am for every three Firebirds -- even starting at $4740 with a standard 185 horsepower 400-cid V-8.
Pontiac Firebird Image Gallery
A fair number of Americans still seemed to insist on performance. The muscle era's death knell may have sounded, but youthful hot-car enthusiasts weren't ready to let it expire completely -- even if horsepower continued its downward slide.
Wraparound rear windows and revised graphics had marked the 1975 models, which saw the again-optional 455-cid V-8 engine emasculated to 200 horsepower.
Both the Firebird's body and its interior earned some attention for 1976. Reshaping of the "shovel-nose" Endura front end gave it a more aerodynamic look, accented by integral body-color bumpers (at both front and rear). Taillamps also were modified. Engineers made fewer changes, leaving things well enough alone.
Trans Ams carried a standard 185 horsepower 400-cid V-8, as they had in 1975. Except in California, the big 455 V-8 remained available, again rated at 200 horsepower. Trans Ams continued to display their immense Firebird emblem, sometimes derided as the "screaming chicken."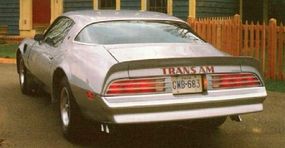 T-roofs arrived for the first time. The Trans Am T-top actually was a Limited Edition, with only 643 built; but that option would gain popularity in subsequent years. Painted Starlight Black and gold, those Hurst-converted Trans Ams commemorated Pontiac's 50th anniversary. A total of 1947 Trans Am Specials wore a conventional roof.
Gasoline shortages seemed to be forgotten as Firebird output shot to 110,775, including a whopping 46,701 Trans Ams -- 42 percent of the total.