The 1976 Pontiac Formula Firebird had a new appearance package that featured bold FORMULA graphics along door bottoms and rocker panels. Incorporated into a full-length, blacked-out strip, this suggestion of ferocious intent enhanced the mid-range model's attraction for customers who couldn't afford a Trans Am. Pontiac made a point of promoting a Formula painted Goldenrod Yellow in its ads, with black lower-body striping.
Pontiac Firebird Image Gallery
Body revisions were the most extensive in five years, led by new urethane bumpers and smaller front air inlets. Axle ratios were lowered this year to boost fuel economy -- a continuing matter of concern, even though gas shortages hadn't lasted past 1974. A rear anti-sway bar no longer went into the radial-tuned suspension.
Base Firebirds adopted a new rosewood instrument-panel inlay. New Formula equipment included a steel hood with simulated airscoop, a front console, and chromed side-splitter exhaust extensions set at a jaunty angle. For the first time, a full-length front console was standard fare in the Formula.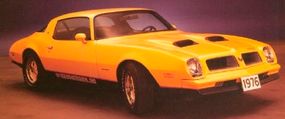 Product planners reworked the Firebird options list, adding such items as a canopy-style roof, vinyl-covered on the front half. A two-barrel 350-cid V-8 now was standard in the Formula (Turbo Hydra-Matic only), delivering 160 horsepower. The 185 horsepower, 400-cid V-8 was optional, and could drive a four-speed. Prices edged upward again, to $4566 for the Firebird Formula.
While many Americans were turning to subcompacts, both imported and domestic, sporty machines hadn't quite lost their allure. Chevrolet and Pontiac continued to clutch the seemingly, abandoned ponycar market to their collective corporate chests.
To learn more about muscle cars, see:
Pontiac Firebird reviews by Consumer Guide