Trans Am already was in the process of developing a legion of aficionados, but you wouldn't know it from the year-end figures. A trifling 1,286 1972 Pontiac Firebird Trans Ams rolled off the line this season -- down by half, which makes the '72 model a very rare bird indeed.
"You don't have to be a designer to see that Firebird styling is futuristic," said Pontiac's 1972 sales brochure. Perhaps so, but even an across-the-board price cut failed to stimulate sales -- though much of the loss can be attributed to the protracted strike at the assembly plant.
Like Firebirds in general, Trans Am displayed nothing more than a new honeycomb-texture grille and a few graphics changes. Under the new "net" measurement standard, output of its 455-cid V-8 dipped to 300 horsepower.
Trans Ams came in either blue with white striping or white with blue stripes. In addition to the 455 HO engine, they had a four-speed gearbox or Turbo Hydra-Matic; fast variable-ratio power steering; power front disc brakes; handling package; and rear-facing "shaker" Ram Air scoop with throttle-operated valve.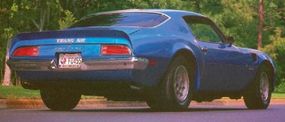 White-lettered F60x15 tires were mounted on Rally II wheels, and drivers consulted Rally gauges (including tachometer, of course).
The Pontiac Firebird Esprit again was available for budget buyers who longed for a little luxury. Formula Firebirds rode a special handling suspension and could be ordered with any of three V-8s: two-barrel 350, four-barrel 400, or 455 HO. With the hottest engine installed, the Formula's otherwise-idle hood scoops opened up for action.