The 1971 Ford LTD Convertible Coupe was the first of its kind for the legendary automobile manufacturer, and one of the last as well.
From its arrival in 1965, the LTD infused the full-size Ford lineup with a sense of luxury more often associated with higher-priced cars. Value-conscious shoppers found that a bargain hard to pass up, and by the end of the 1960s, the LTD was pressing the more modestly priced Galaxie 500 for sales supremacy among Ford's big family cars. The LTD lineup grew stronger in 1970 with the addition of plusher Brougham models.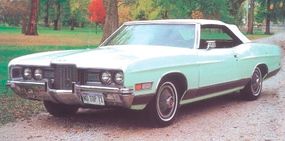 Originally the province of a couple hardtop models, the LTD eventually added a four-door sedan and took the Country Squire station wagon under its wing. But one thing it never had until 1971 was a convertible. In 1970, Ford's lone big open car was in the XL series, but that was the last run for the division's full-size sports models. Though convertible demand was waning in general, Ford kept the ragtop and elevated it to LTD status.
Full-size Fords were totally restyled for 1971. The look began with a prominent vertical grille theme evolved from 1969-1970 LTDs and XLs. Headlamps were exposed, but set in deep cavities that flanked the central grille. The trailing edge of the domed hood now concealed the windshield wipers. On the sides, a pair of creases bulged out from the far ends of the car, then faded again toward the middle. A large inset cove under the trunklid held the taillights, which were a three-section design on LTDs and Broughams. Inside, there was a new, flatter instrument panel.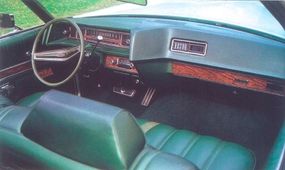 Wheelbase continued at 121 inches, as it had been since 1969, but front- and rear-wheel tracks were fractionally wider. A power ventilation system was newly standard. Growing concerns about vehicle safety were addressed by steel "Guard Rails" now built inside each door.
Except for the two optional 429-cid V-8s, all carryover engines used in big Fords lost 10 bhp from 1970. Standard in LTDs was a 351-cid V-8 with a three-speed manual gearbox. Available V-8s were the veteran 390-cube job, a new 400-cid powerplant, and the 429s. Most LTDs and Broughams came with the SelectShift Cruise-O-Matic automatic transmission.
LTD standard equipment included power front disc brakes, a self-regulating clock, and woodgrain interior appliques. The convertible added vinyl upholstery and a five-ply vinyl power top (in a choice of white or black) with a tempered glass rear window. Soft-top prices began at $4,094.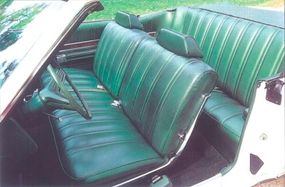 The well-traveled -- but well-maintained -- 1971 LTD convertible seen here belongs to David and Karen Erschen, of Pontiac, Illinois, There are more than 113,000 miles on the pale green ragtop's odometer, but its parts are all original. Over time, the body and engine compartment have been repainted and the bumpers rechromed.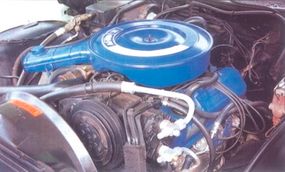 Power comes from a 260-bhp 400 V-8 with a two-barrel carburetor. The Cruise-O-Matic trans was required with this engine. Other accessories include power steering, power front seat, AM/FM stereo, air conditioning, cornering lamps, and deluxe wheel covers.
The Erschen's LTD is one of 5,750 convertibles built for 1971. After another 4,234 came out for 1972, the LTD's whirlwind romance with open-air motoring ended.