After less than two years on the market, Firebirds, including the 1969 Pontiac Firebird Sprint Convertible, enjoyed a facelift. Overall length grew 2.3 inches, width by an inch. Wheel openings were flatter, and windsplits decorated bodyside panels and front fenders.
Pontiac Firebird Image Gallery
Change was most evident in the Endura plastic front end (doubling as a bumper), where the split grille was narrower and quad headlamps sat in separate compartments. Slim, fluted taillamps continued, but in a revised rear panel. Overall, the car had a heavier look, adopting some of the GTO's character.
Base engine was again the 175 horsepower, 250-cid overhead-cam six. Sprints got a more potent 230 horsepower edition, breathing through four barrels instead of a single-throat carburetor.
For $121, Sprints also included racing stripes and sport suspension. Contemporary testers found the Sprint delightfully responsive on the open road, especially with a four-speed.
Base V-8 was the 350, delivering 265 bhp on regular fuel. The 350 HO earned a few modifications (new heads, higher-lift cam) and came with a heavy-duty three-speed and dual exhausts. Ordering the 350 HO no longer brought side stripes.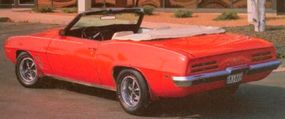 Next step: the muscular 330 horsepower 400, including hood scoops, special handling suspension, and chrome engine dress-up components. The 400 HO engine was gone, but two Ram Air versions could be ordered. With its high-output cam and oversize valves, the Ram Air IV could deliver quarter-mile times near 14 seconds.
Interiors displayed fresh instrument-panel facing and a new steering wheel. Options included Rally II wheels and, for the first time, all-leather bucket seats. Shoulder belts were standard in coupes; bench seats were optional, though rarely installed. Close to one-fourth of Firebirds halted with front disc brakes.