Meet the granddaddy of today's Honda Civic CRX. It's the 1969 Honda S800, the last and most powerful version of one of the first Hondas with more than two wheels.
The S800 was born as the S360, a prototype shown at the 1962 Tokyo Auto Show alongside the motorcycle maker's first production car, the air-cooled, front-drive 1300.
The S360 was aimed at the "light car" class, then the biggest segment of the home market, made up of dumpy little two-cylinder sedans designed to qualify for sizable tax breaks under government regulations. But the tiny open two-seater looked like a "performance" machine to certain government officials, and they denied it "light car" status.
Honda struck back, enlarging the four-carb, hemi-head four to 531cc for the 44-horsepower S500. It was a solid hit. Measuring just 130 inches long, 56.3 inches wide, and 47.3 inches high, it was built on a petite 79.0-inch wheelbase.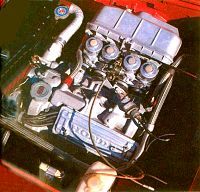 ­Drive was taken to the rear via a four-speed manual gearbox and motorcycle-type chain. The all-independent suspension employed A-arms and torsion bars up front, trailing links, coil springs, and an anti-roll bar in back. Steering was rack-and-pinion.
The S600 followed in 1964 with 606cc, 57 horsepower, a few styling changes, and a new coupe alternative to the roadster. Some 12,000 were sold both home and abroad -- but not in the U.S. -- through the end of 1965.
At the suggestion of famed race drivers Denny Hulme and Bruce McLaren, Honda added more power. The resulting 791cc S800 packed about 72 horsepower peaking at around 8,000 rpm. Chain drive gave way to a conventional live rear axle and disc brakes replaced drums at the front, but most other specs were unchanged. Production ended in 1970 after some 11,400 units.
The 1969 Honda S800 featured was acquired in 1982 by Norm Reeves Honda of Lakewood/Bellflower, California, which made the original owner an even swap for it with a new Accord. Only some 200 S800s are known to exist in the U.S., all privately imported. The dealership has put a $15,000 price tag on this restored red beauty, which still graces its showroom today. Like it? Sorry, it's not for sale.