The 1965 Pontiac Catalina 2 + 2 convertible dates from the halcyon days of the 1960s, when car designers and engineers seemingly had a free hand with new-model preparation. Want more power? Add cubic inches. Styling outdated? Have the folks in the studio draw up something "longer, lower, and wider." No crash tests to pass, no EPA or CAFE requirements to meet. The only people that had to be satisfied were the corporate bean counters and John Q. Public. Needless to say, this type of thinking resulted in some exciting cars, and Pontiac was responsible for more than its share.
Coinciding with the introduction of the GTO in 1964, Pontiac offered a new package option called 2 + 2 for its full-size Catalina two-door hardtop and convertible. Due to a GM policy that prohibited engines over 400 cid in intermediates, the GTO had to "make do" with the division's 389-cid V-8, while the larger Catalina was eligible for Pontiac's 421-cid monster motor.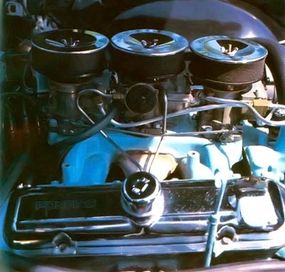 Checking the 2 + 2 option box gave you the big engine with a four-barrel carb, plus heavy-duty three-speed gearbox with floor-mounted Hurst shifter, 3.42:1 rear axle ratio, heavy-duty springs and shocks, and some additional interior appointments, all for $418.54. Racer types could order up a Tri-Power engine with 370 bhp, as well as four-speed manual and Safe-T-Track limited-slip differential. So equipped, a 2 + 2 was reportedly good for a mid-15-second standing quarter-mile.

For 1965, the top-rated 421 was listed at 376 bhp, and all big Pontiacs boasted a new look. The Catalina hardtop acquired a full fastback roofline, front-end styling had more character than the rather flat 1964 face, and sharply defined lower-body sculpturing lent a more rakish air to the profile. A former GM stylist once said the new design was "one full styling wave" ahead of other Detroit offerings that year. It was arguably the best "big" Pontiac of the decade.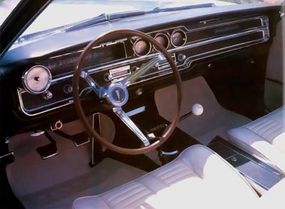 Alas, the 2 + 2 did not enjoy the GTO's sales success. For one thing, the big cat cost a good $500 more than its sportier linemate, and no one was singing its praises. Whether due to customer indifference or declining profitability, Pontiac phased out the 2 + 2 option after 1967.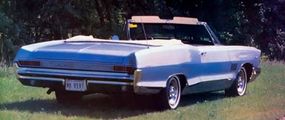 Though figures are sketchy, the 2 + 2 saw about 11,000 sales for 1965. If the ratio of sport coupes to convertibles is roughly the same as that of the standard Catalina line, then fewer than 200 of the ragtops were produced that year, making a beautifully restored 1965 a rare tiger indeed. It's got the Tri-Power 421, four-speed, and Safe-T-Track. It's a real nostalgia trip for those of us who remember the days when performance was only as far away as the local Pontiac dealer.