The 1961 Dodge Polara D-500 Convertible was a fusion of the Matador and Polara. Read on to learn how this machine came to be produced.
In the early 1970s American Motors asked car buyers, "What's a Matador?" AMC should have learned from Dodge. Or perhaps Dodge should have asked that question in 1960 when it fielded its own Matador -- and nobody noticed. Less than 30,000 were sold, and it was dropped after one year.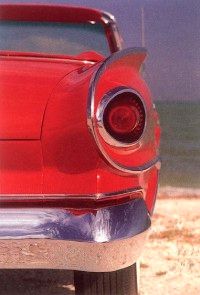 It might have been even more to the point had Dodge asked, "What's a Polara?" This new top-of-the-line 1960 Dodge fared even worse -- it recorded sales of less than l7,000 units.
Although flying high on the success of the new full-size, low-price 1960 Dart, Dodge wasn't about to give up.
So it dug in its heels and consolidated the top-line Matador and Polara, which rode the 122-inch-wheelbase Chrysler Windsor chassis, into one six-model Polara line for 1961.
"This is Polara -- the finest of everything Dodge," proclaimed, the brochure. "You will respect its masculine authority. You will enjoy obvious advantages in power plant design, interior spaciousness, ease of entry and exit, and operating economy Polara has been put together with extraordinary care and good-taste...Above all, Polara is designed for your personal comfort...Yet for all that, Polara does not deprive you of the deepest satisfaction of car ownership a man can have -- complete and authoritative control of a precision machine."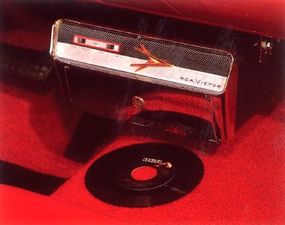 The 1961 Polara, billed as the "custom-size Dodge," received an extensive restyling. The new look featured a wide, concave grille with low-mounted quad headlights, the entire ensemble cowled by the hood and peaked front fenders.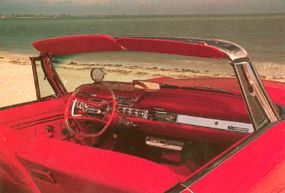 The front end looked much like the less expensive Dart, save for a bold medallion in the center of the grille.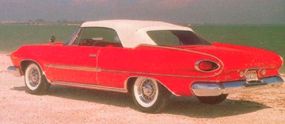 From the side and rear, the Polara took on a more exclusive look.
The dominant feature was the curious reverse-slant fins. Their highest point was just aft of the C-pillar, from which they tapered downward, encircled the rocket-like taillights, then reversed forward in a sweep of chrome that swelled open just enough to house a strip of silver or gold anodized aluminum.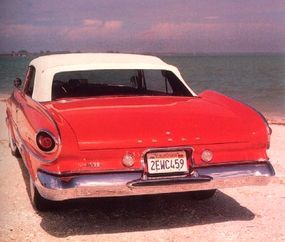 The interior featured a new space-age dash with a high-mounted speedometer, pushbutton transmission controls, and "Towerback" driver's seat.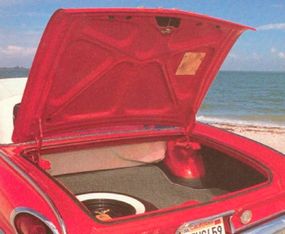 Optional goodies included the "Highway Hi-Fi" record player, the squared-off "Aerowheel" steering wheel, "Auto Pilot" speed control, and "Safe-T-Matic" door locks.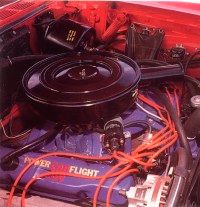 Standard power came from a 361-cubic inch V-8 that sipped regular gas, but the car featured here runs with the hot D-500 option: 383-cubic inch, 325 horsepower, 425 lbs/ft torque, four-barrel carb, 10.0:1 compression ratio.
Dodge built only 4,361 convertibles in 1961, Dart and Polara -- of those, certainly far less than half were the upmarket Polara.
The styling of the 1961 Polara was controversial in its day, and it still is. In October 1960, Chilton's Motor Age referred to it as "splendorous." That seems to sum it up rather nicely.