The 1957 Cadillac Eldorado Biarritz Convertible was one of two "volume" Eldos available from the manufacturer that year. There were 1,800 of the $7,286 Biarritzes made, and 2,100 of the like-priced Seville hardtop.
Earlier, Cadillac had expanded its Series 62 line for 1953 with the introduction of the $7,750 Eldorado, a plush, limited-edition convertible coupe that found 532 buyers in its debut year. Sales rose to 2,150 for 1954 and 3,950 for 1955, the latter model year being Eldorado's first profitable one. Clearly, Cadillac had hatched that most desirable of hits: a premium-priced car (a more reasonable $6,286 by 1955) that sold healthily .
Model-year 1956 brought a pair of Eldorados, a new Seville hardtop coupe and the Biarritz convertible.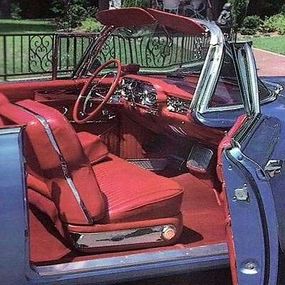 Eldorados continued as part of the Series 62 line for 1957, and rode on that series's 129.5-inch wheelbase. The gently rounded jet-pod fins that characterized the 1953 and 1954 Eldorados had been replaced for 1955 by aggressive, sharklike protrusions with underslung twin-pod brake/backup lights. The styling theme was subtly carried over for 1957, with the fins more pointed and graceful than before, and happily unencumbered by the pod-like taillight treatment.
Up front, the Eldorado dispensed with hood ornamentation; otherwise, the front end was the same as on the rest of the 1957 model line.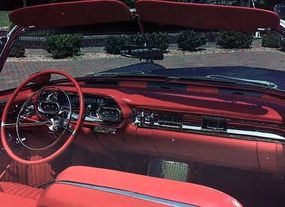 Underhood was an over-square, bored-out 365-cid V-8 good for 325 horsepower. This was the most potent V-8 yet offered in a Cadillac -- and a good thing, too, as the Biarritz weighed 4,930 pounds.
The splendidly restored 1957 Biarritz seen here, finished in Lake Placid Blue, is owned by Robert N. Seiple of Louisville, Ohio. The car's 365-cid V-8 runs with twin four-barrel carburetors and mates to a Hydra-Matic transmission. Optional equipment includes a foot-pedal radio control. The odometer shows less than 20,000 miles -- a collector's dream and a Milestone car to boot.