Dodge burst into 1955 with stylist Virgil Exner's all-new "Forward Look," embodied in the 1955 Dodge Custom Royal Lancer Convertible. Although it shared a body shell with Plymouth, the Dodge rode a longer 120-inch wheelbase and had a "Flair Fashion" look all its own.
And fashionable it was, with a front that sported two large horizontal bars that wrapped around from the fenders into a divided grille cavity. The dummy scoop on the hood flared outward, back toward the cowl. On some models it flowed into the rear fenders, with a "dip" in the rear quarters. It was a clever idea by Maury Baldwin -- who worked under Dodge/Plymouth exterior stylist Henry King -- that made the still rather high-sided body seem much lower. Upper-priced models also carried slim, chrome-plated tailfins above the "Tandem-jet" taillights, a hint of things to come.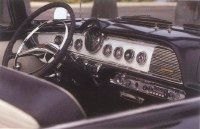 Baldwin also came up with an asymmetrical and very stylish dash, with instruments and controls clustered on the left. To the right of the steering column, a dashboard-mounted PowerFlite lever protruded. A wrapped windshield and larger glass area improved larger visibility.
For 1955, Dodge's hemi V-8 was enlarged from 241.3 cubic inches to 270.1. The base V-8, now with poly-heads, claimed 175 horsepower, but the top-line Custom Royal Red Ram V-8 retained hemi heads and put out 183 horsepower, 193 with "power-pack."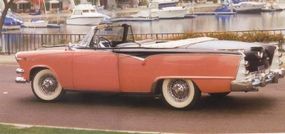 Dodge gave in to three-tone paint as an option for most Custom Royals, often in flashy colors.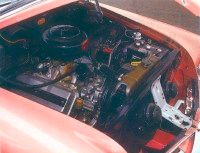 Nor was Dodge the least bit bashful in promoting its new cars. "New as tomorrow's headlines ... " said the brochure, "exciting as overtime hockey." The ragtop was billed as a "sparkling, spirited beauty, eager to go places with you." Here was, Dodge boasted, "the car that will set your pulse a-pounding with its promise of high adventure ... Beneath its long, low hood, vast reserves of surging, silent power await your command. In the interior, every luxury, every convenience, is yours ... With sweeping action lines, low, curve-hugging design and plentiful power, it's the ultimate in open-car motoring!"
The 1955 Custom Royal Lancer seen here is painted Heather Rose and black, and sports a Sapphire White top. Only 3,302 were built for the model run, making them fairly rare today. Wouldn't it be nice to be able to go to your local Dodge dealer and buy one now for $2,761 list?