The 1954 to 1966 Oldsmobile Starfires embodied the personal-luxury cars for Oldsmobile with convertible and coupe models.
As the top-of-the-line Oldsmobile series, the Ninety-Eight was chosen to wear the production Starfire tag first. Just prior to that, however, the name had been applied in 1953 to a fiberglass-bodied show car that borrowed its space-age moniker from the Lockheed F-94B Starfire fighter airplane.
It debuted as a sporty four-passenger luxury car, fitting right into the personal-luxury market niche that the four-passenger Thunderbird would blow wide open in 1958. The Starfire show car, which was finished in a striking turquoise hue with a turquoise and white leather interior, sported advanced styling that tipped several trends of the future.
The design of the grille can be seen on production 1956 Oldsmobiles, for example. Powerplant for the experimental model was the Rocket V-8, which had been tweaked to over 200 horsepower.
The special one-of-a-kind Starfire appeared at the major automobile shows in 1953 and 1954. Because the public reacted favorably, the Starfire badge found its way to the front fender of a production Olds -- the Ninety-Eight convertible. The product catalog that year proclaimed: "Inspired by Oldsmobile's fabulous STARFIRE, the new Ninety-Eight Starfire for 1954 represents the ultimate in motor car sophistication and glamour."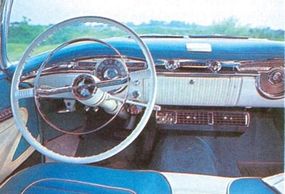 The Starfire rolled on a wheelbase of 126 in. and measured more than 214 in. from bumper to bumper. Standard Starfire equipment included 8 x 15-in. tires, hydraulic windows, two-way power seat, and power top. The price listed at $3,249, $200 more than the Custom Holiday Ninety-Eight hardtop. The interior on that first production Starfire closely resembled its experimental namesake.
It was done in saddle-stitched, patterned, hand-buffed leather combinations. A total of 6,800 Starfires were built for 1954.
See the Starfire's progression from 1955 through 1957 in the following section.