The 1952 Packard 250 convertible coupe was one of Packard's "firsts" in 1952. It was the year the company rolled out its first two-door hardtop, the Mayfair, and a convertible.
These two particularly attractive models belonged to the 250 series, though more news was being made in Packard's boardroom than its showroom that year.
In 1952, James J. Nance came from General Electric Company's Hotpoint appliance division to replace Hugh Ferry as president of the Packard Motor Car Company. Ferry had actively recruited Nance to get some new blood pumping through the company as it faced a challenging postwar market.
The fact that Packard's cars changed little for 1952 was really not that surprising, considering that they had been totally redesigned the year before. Smooth, contemporary styling directed by John Reinhart replaced the "upside-down bathtub" look of 1948 to 1950.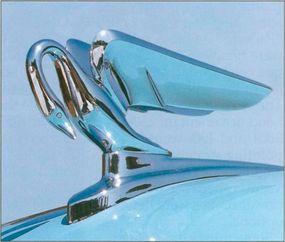 The Series 200 were reorganized into two trim levels -- Nance later would turn them into the Clipper line -- and put the 250 on a new 122-inch wheelbase. The plusher 300 and 400 sedans were built on a chassis 5 inches longer.
The 250 Mayfair and 250 convertible shared the size and styling of the medium-priced 200s, but the 250s used the same 327-cid, five-main-bearing, L-head straight-eight engine that powered the 300. A more-powerful 327 with nine main bearings was used in the 400.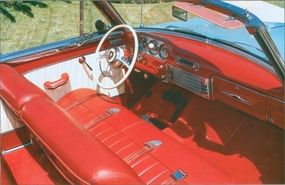 Other changes in 1952 included the removal of the block letters that had spelled out "Packard" on the hood, but a marque crest was added to the top of the grille surround.
The wings of the cormorant hood ornament on 250s, 300s, and 400s went from pointing straight up to angling straight back. Vacuum-boost "Easamatic" power brakes were newly optional.
Some things did change more substantially -- and not for the better. Packard model-year production came to 62,921, down from 100,713 in 1951. It was hardly a warm welcome for Nance in his new job.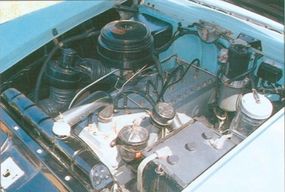 Of that nearly 63,000 cars for 1952, the 250 series contributed 5,201, approximately 1,000 of them convertibles like the restored example shown. Six leather and woven plastic upholstery combinations were available. Tops came in a choice of black or tan fabric.
The 1952 Packard 250 convertible coupe shown here is equipped with Packard's Ultramatic automatic transmission, the 155-horsepower version of the 327 eight -- as opposed to 150 standard. Aside from Easamatic brakes, the car has a power seat, radio antenna, and windows.