Now this is a truck! The 1949 Diamond T Model 201 pickup came from a truck family long referred to as the Cadillac of commercial vehicles.
Chicago's Diamond T enjoyed a high reputation for style and quality. But most of its products were heavy haulers, and one-tonners like the 1949 Diamond T Model 201 pickup are very scarce.
Classic Truck Image Gallery
The styling of the 1949 Diamond T Model 201 pickup can be traced back to 1936 (Diamond T didn't go in for planned obsolescence). In that year, a passenger car-like horizontal-bar grille was adopted, along with a swept-back two-piece windshield that cranked open for ventilation.
Restyling for 1938 focused on a grille/headlamp/fender ensemble that resembled nothing so much as the 1938 Pontiac, minus its Silver Streaks. The grille was slightly modified in 1939 -- it looked like the 1938 Cadillac Sixty Special's -- but from this point the Model 201's styling was frozen.
The Diamond T Model 201 pickup was accompanied by an open express body style and a panel delivery that Diamond T boasted had a 99-inch cargo hold. An X-braced frame mounted an extra-heavy-duty front axle and full-floating rear axle, held by leaf springs at each corner.
The six-cylinder Hercules engine ran in seven main bearings and was cooled by a gear-driven water pump; it developed 91 bhp at 3,200 rpm, working into a Warner T9 four-speed manual gearbox. The rear axle ratio was a suitably truck-like 4.62:1.
First gear was really an emergency low: in normal driving the top three gears were generally adequate. Gross vehicle weight was 8,000 pounds, but the bare chassis weighed 2,750 pounds.
The Diamond T pickup wasn't cheap, listing at $1,655 -- about a third more than Ford charged for the half-ton V-8 pickup. Even Ford's F-3 one-tonner undercut Diamond T by more than $200.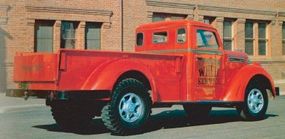 Unlike most pickups of the time, the 1949 Diamond T Model 201 pickup used no car-based components. Note the unusual rear-window design.
Though prewar Diamond T Model 201 pickups featured a handsome engine-turned dash, electric clock, fancy steering wheel, full-disc hubcaps and soft imitation leather upholstery, postwar models leaned toward the practical. Typical equipment included turn signals, an extra taillight, cab lights, oil filter, and heavy-duty generator.
Collectible Pluses of the 1949 Diamond T Model 201 Pickup
Rugged good looks

Really different

Remarkably smooth, quiet ride

Exceptionally high quality of construction, fit, and finish
Collectible Minuses of the 1949 Diamond T Model 201 Pickup
Parts are almost impossible to come by

Back axle hops over rough surfaces

Cab is cramped for tall drivers

A very hard truck to find
For more great articles and pictures on new and classic trucks, see:
Consumer Guide Auto Reviews and Prices