The 1949 Buick Roadmaster Estate Wagon was the rarest of the 1949 Buick station wagons, with only 653 made -- including 21 that were built for export. Overall, only 2,500 station wagons were built.
The 1949 Buick Roadmaster Estate Wagons were also the most expensive at $3,734. That's $500 more than the next costliest model, the $3,203 Riviera. It was also the heaviest at 4,490 lbs. -- a fact that Buick ads for the Estate during that era proudly pointed out: "Four coil-springed wheels and honest heft that levels the miles with majestic smoothness."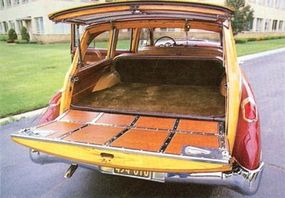 Also new for 1949 were two design elements that would become Buick hallmarks: sweepspear side chrome moldings and VentiPorts. The former found their way onto a few late 1949 cars and then went on to be used through the 1950s. The latter, called "mouseholes" by some, would be used by Buick off and on in various forms right into the 1980s.
As used on the 1949 models, VentiPorts were round and rode on the front fenders. Supers got three per side, while the top-of-the-line Roadmasters were fitted with four.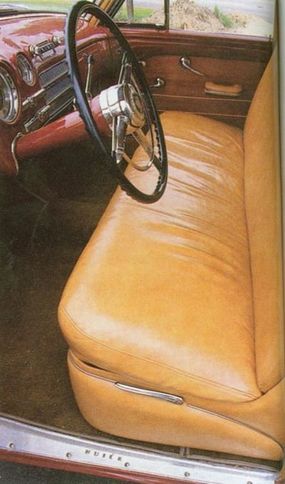 Other identification points on the 1949 Buicks included the toothy grille, first seen on the 1942s; the "bombsight" hood ornament, which harked back to the 1940 Y-Job show car; and the Dynaflow script on the rear fenders, which referred to the torque converter automatic transmission that Buick debuted in 1948 and was standard on all 1949 Roadmasters.
Roadmasters shared GM's C-body platform, riding a 126-in. wheelbase and measuring 214.125 in. overall. They were powered by Buick's biggest valve-in-head straight eight, a 320.2-cubic-inch unit that cranked out 150 bhp on a 6.9:1 compression ratio. Full wheel trim discs and fender skirts added a touch of elegance to an already classy line of automobiles.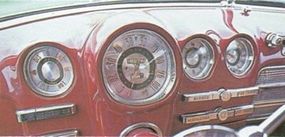 The Roadmaster Estate (model 79R) was still a woody, although its Ionia body used far less wood than earlier wagons. Inside, mahogany veneer panels and leather upholstery set the tone. Floor and cargo area were carpeted, of course.