When Packard resumed production after World War II, it debuted its Twenty-First Series cars, which would be built for the 1946 and 1947 model years. The ten-model lineup came in four series: Clipper Six, Clipper DeLuxe Eight, Super Clipper Eight, and -- at the very top -- the Custom Super Clipper Eight.
The last included two 148-inch-wheelbase models, seven passenger sedan and limo, plus the 127-inch-wheelbase Club Sedan and Touring Sedan. The Touring Sedan listed at $3274, but escalated to $3449 during the model year.
It boasted Packard's largest engine, a 165-bhp 356-cubic-inch straight eight with a nine-main-bearing crankshaft and silent hydraulic valve lifters. The Custom Super Clipper sported distinctive interior trim, special carpeting, broadcloth and leather upholstery, and imitation wood paneling.
Neil Torrence, from Arcadia, California, says his car was originally sold on September 10, 1947, in Long Island, New York. It later migrated to Atlanta, and finally to California. Equipment includes a Philco push-button radio with roof-mounted expanding antenna, Goddess-of-Speed hood ornament, special cloisonné and dove wings in place of a front license plate, heater, defroster, and overdrive ("an absolute necessity for over-100-mph touring -- which it will easily do," says Neil).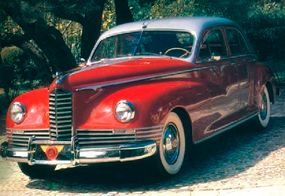 Neil's Packard also has an Electromatic clutch, which is identified by a red clutch pedal. This vacuum-and-electric relay operated mechanism was offered from 1941-1950, and eliminated only the need to use the clutch -- the driver still had to shift gears.
The Custom Super Clipper was not often seen even when new as only 5690 Club and Touring Sedans were built for 1947. They were -- and are -- respected as top level luxury cars, having attained Milestone status with the Milestone Car Society and full classic status with the Classic Car Club of America (CCCA). Neil's 99-point beauty (with engine and body numbers F520229 and 7879) is the last classic Packard known to exist. And as recipient of the 1986 Paul Cerf trophy, it is only the second postwar Packard ever to win in CCCA Senior Class competition.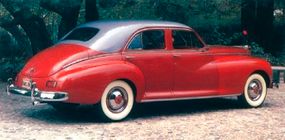 Neil's Custom Super Clipper, acquired in 1984, has also been awarded CCCA National first place Primary, 1985; Best of Show, Post War, Packards International Grand Salon, 1985; and Best of Show, Packard Automobile Classics Annual Los Angeles Concours, 1986.
For more information on cars, see:
Classic Cars

Consumer Guide New Car Search

Consumer Guide Used Car Search