Who built the first pillarless hardtop coupe? The correct answer is Chrysler, with the 1946 Chrysler Town & Country Hardtop. However, most people answer General Motors, claiming that the 1949 Buick Roadmaster Riviera, Oldsmobile 98 Holiday, and Cadillac Coupe de Ville were the first to feature this popular body style.
In fact, it was three years earlier when GM's hardtop design was still just a 3/8-scale model. Chrysler Division President David A. Wallace was driving the Town & Country hardtop shown here.
Wallace envisioned a full line of Town & Countrys for 1946, including a hardtop, two-door brougham, roadster, four-door sedan, and convertible. Only the sedan and convertible made it into production, but Chrysler considered the other models seriously enough to include them in its advertising that year.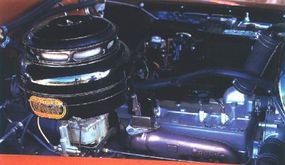 "The Wallace car," as this one is generally known among Town & Country aficionados, is the fifth of seven prototype Town & Country hardtops built. It is believed to be the only one still in existence.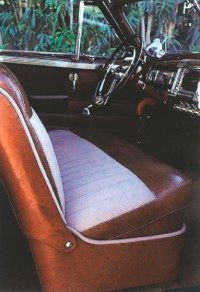 The car's power comes from a 323.5-cubic inch straight-eight engine.
Wallace drove the car in its original form from 1946 to 1949, then had the factory paint it Navajo Brown, enlarge the rear window, and add a padded top made of Tolex (a sort of alligator-pattern vinyl). He kept it for several more years, then placed it in the Chrysler motor pool. From there, it made its way into private hands.
The car's current owner, Lloyd Mayes, of Las Vegas, Nevada, gave it a meticulous frame-off restoration in 1998. Surprisingly, the Tolex interior and top were in excellent condition, needing only to be restitched in places.
It is often difficult to assign an exact value to such one-of-a-kind cars, but Mayes has turned down offers as high as $250,000 for it.
Normally he doesn't let the car's quarter-of-a-million-dollar value stop him from driving it. But for now, he's parked it long enough to display it at the Petersen Automotive Museum in Los Angeles.