Given the times, it was inevitable that Packard would drop its expensive, slow-moving V-12 (only 446 built for 1939). Thus, for 1940, Packard consolidated its assembly lines and began building the senior Packards, such as the 1940 Packard Darrin One-Eighty Victoria Convertible, alongside the junior cars.
Replacing the V-12 was the Custom Super-8 One-Eighty. True, it cost $2,000 less than the V-12, but lest anyone think it didn't measure up, Packard, staged a race at its Proving Grounds, which the 160-horsepower straight eight won easily. It was, after all, America's most powerful production engine, save for the Cadillac V-16.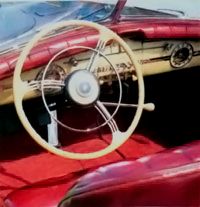 Style-wise, Packard maintained a conservative image, but Howard "Dutch" Darrin, noted designer of custom-built cars, had been adding pizazz to Packards since 1937.
By 1939, Packard management had taken note, and so for 1940 two Packard Darrins were listed: a $6,332 Convertible Sedan and a Convertible Victoria for $4,593. The latter was advertised in the Saturday Evening Post as "Glamour Car of the Year! (Of course, it's a Packard)."
The Darrin Victoria gained its sporty looks from its cut down doors, raked windshield, sawed-off running boards, and lowered hood and grille.
To its credit, the rakish Victoria went on to win "classic" status from the Classic Car Club of America.
The ragtop Victoria quickly became a status symbol, catching the eye of more than one famous star. Drummer Gene Krupa, for example, bought one.

So did Carol Lombard -- as a Valentine's Day present for her actor husband, Clark Gable.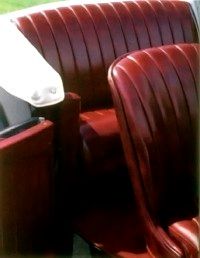 He had been busy during 1939 filming Idiot's Delight and playing the part of Rhett Butler in Gone With the Wind, and perhaps it was for that immortal role that she bestowed upon him such a lavish gift.
The Darrin Victoria pictured above was the one given to Clark Gable.
Built in the old Connorsville, Indiana, Auburn plant, it is one of an estimated run of about 50.
This Darrin was reportedly the only one to sport wind wings, and is also fitted with Tripp driving lights and a radio.
The Gun Metal Grey exterior was complemented with red trim, and set off against a deep maroon interior.
It's easy to picture Carol Lombard and Clark Gable climbing aboard and, in an eye blink, being Gone With the Wind!