Dodge would introduce a brand new line of art-deco cars and trucks for 1939, so the 1938 Dodge RC pickup represented the last of a styling generation.
Like Dodge's 1938 cars, the 1938 Dodge RC pickup had a new radiator shell and grille with narrow chrome strips down the center, flanked by horizontal bars that harmonized with the hood louvers. The 1938s were the last to use the "Dodge Brothers" radiator badge.
Since its 1936 restyling around a barrel-shaped radiator, these Dodge pickups hadn't fared too well. Then again, neither had those of any other manufacturer during the slow economy of the late 1930s.
The 1938 Dodge truck line was the broadest ever. Dodge claimed to meet 98 percent of all truck needs with one model or another, and a new truck plant began operation in Warren, Michigan.
The neat 1938 Dodge RC pickup with its rounded grille and skirted fenders usually appeared in very plain guise, but buyers could specify chrome headlights and radiator shells. Some dealers offered a variety of aftermarket equipment, such as rack-type utility and stake body parts.
Many Dodge commercial chassis were sold bare, and equipped by special bodybuilders. Another version of the light-duty Dodge that was fairly unique in its time was the DeLuxe Suburban, a $1,020 panel truck comparable to Chevy's sedan delivery.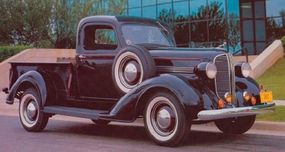 Closely resembling the standard Dodge passenger car, it looked especially civilized with the optional chromed accents. Mechanical improvements included an all-steel "safety body" with insulated steel roof, rear quarters, cowl, and door panels to promote quieter running.
All Chrysler Divisions also celebrated Superfinish, a method of metal finishing that Chrysler said was so smooth no scratch could penetrate more than a fraction of an inch.
All light trucks were powered by Dodge's six-cylinder passenger-car engine: 218 cubic inches, rated 75 horsepower.