Before "woody" station wagons were factory-authorized, the 1931 Chevrolet Series AE station wagon already was sporting the style on the road.
Eight years later, Chevrolet offered its first factory-authorized "woody" station wagon. Chevrolet was one of the many makes then being used to provide the running gear for special-order aftermarket wagon conversions.
Those constructed in 1931 used the new Series AE chassis. Its 109-inch wheelbase was two inches longer than the previous year's. The 50-horsepower, 194-cid, ohv six-cylinder engine got a new crankshaft vibration damper, a heavier flywheel, and a block with added strengthening ribs.
On the outside, there was a new grille design, revised hood louvers, and a new headlight bar that also supported the horn on the left side.
It was the commercial-car chassis that commonly got the call from wagon builders. The chassis has been built to light-commercial specifications. The AE chassis also served as the basis for a series of light-commercial vehicles.
These light trucks were marked by details such as beefier springs and an underseat fuel tank rather than one at the rear. But bodywork was nearly identical to that of the cars.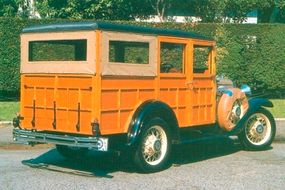 On the outside it wears the bright trim of the DeLuxe package first offered for commercials in 1931 to spruce up the looks of vehicles that needed a nattier image.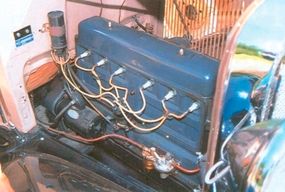 The body features roll-up glass in all four doors and side curtains for the rear quarters. Period upholstery would have been leather, but the six-seat wagon shown here uses brown vinyl in a shade that matches the original.