Although the failing economy would fall even further in 1931 and 1932, 1930 -- the year the 1930 Buick Series 40 Phaeton was introduced -- was not destined to be a very good year, either.
The folks in Flint, Michigan, had introduced the 1930 Buicks on July 28, 1929. This was before the stock market crash, of course. The model year had started on a note of optimism, but this was not to last past Christmas. The 1930 Buicks deserved increased popularity, but they came at the wrong time.
Dealers found they could only move two cars for even three they'd sold the year before. By the end of the calendar year, production was down to 119,265 cars, including some 12,000 Marquettes. The unchanged junior edition proved a bitter sales disappointment, and was discontinued at the end of the 1930 model year.
Buick put much of its energy into fixing up the styling of the 1930 models, hoping people wouldn't call it "pregnant" any more. Contributing to the new-found good looks were a height reduction of two inches, and a handsome beltline molding that went from front to rear and around the back.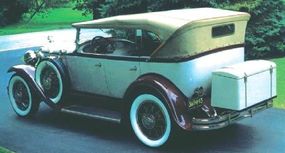 Chief engineer "Dutch" Bower also put a major effort into improving ride comfort. In, addition, vacuum-servo brakes and thermostatically controlled radiator shutters were made standard.
Model designations changed, too. The Series 116 was replaced by the Series 40 on a new, lower, 118-inch-wheel-base chassis with wooden-spoke artillery wheels and 19 x 5.00 tires.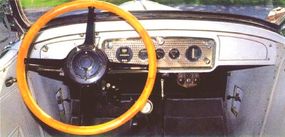 The small overhead-valve six was bored out to 257.5 cubic inches, which raised output to 80.5 horsepower at 2,800 rpm. Among the six models, the four-door sedan cost $1,330.
Series 121 was renamed Series 50 and its wheelbase stretched to 124 inches. The big six grew to 331.5 cubic inches, which translated into 98 horsepower at 2,800 rpm. Prices ranged from $1,510 to $1,540. Series 129 lived on as the 132-inch-wheelbase Series 60, sharing the 50's six. Prices ranged from $1,595 to $2,070.
But it was the Series 40 that sold best, particularly the four-door sedan. The two open models, a two-passenger sport roadster and the four-passenger phaeton, listed at $1,310. The former saw output of 3,639 units, while the phaeton did even worse with just 1,100 built -- only the limo sold fewer copies.
The phaeton was a dashing car for its day, and looked even better with options such as the adjustable wire-spoke wheels, dual sidemounts, luggage rack, wind wings, and chrome hubcaps. Exterior chrome horns, Pilot Ray lights, and a stone guard added distinction.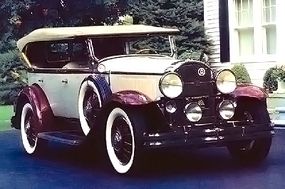 The phaeton starred at the Super Bowl in New Orleans when it transported Roger Staubach in pre-game activities. This beauty has taken many awards, and is classified as a "senior" by the Buick Club of America.