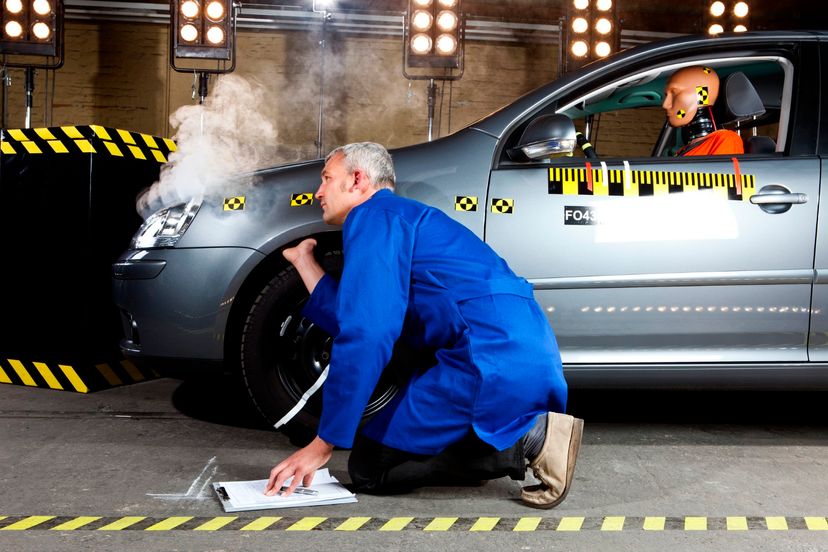 Crash Test
Fstop / Getty Images
Nothing is more important than safety when it comes to motor vehicles. Ensuring that you are driving a safe and reliable car, truck, or sport utility vehicle should be each person's top priority when it comes to buying a vehicle. Especially since not all vehicles are created the same and their safety records and features vary greatly.
Fortunately, there are great organizations out there such as Consumer Reports that rigorously test cars in different categories and grade them based on their safety. This is vital information for any consumer who is in the market for a new or used vehicle. Here then are 10 cars with the worst safety ratings, according to Consumer Reports.
10. Lowest-Rated Subcompact: Mitsubishi Mirage
People in the market for a subcompact car might be attracted to the Mitsubishi Mirage's starting price of $13,000, as well as its solid fuel economy of 37 miles per gallon of gas. However, these features cannot hide the glaring flaws in the Mirage, which is indeed a very small car. These flaws include a weak three-cylinder engine that vibrates at certain speeds, sluggish acceleration and sticky brakes. Add in a cramped interior and a poor rating from the Insurance Institute for Highway Safety (IIHS) and you get an idea of the issues with the Mirage. While Mitsubishi has promised enhancements for the 2017 model such as more power, Android Auto and improved brakes and handling, those changes are unlikely to mask the fact that this subcompact car is a dud in terms of its safety and performance ratings.
9. Lowest rated compact car: Fiat 500L
The Fiat 500L is a notorious car for all the wrong reasons. Not only is this car the worst rated compact vehicle by Consumer Reports, it also achieved the worst reliability of any new car in the company's 2016 survey of more than 740,000 vehicles. That's nearly a million vehicles tested! The Italian built car has been singled out for having several significant issues. According to Consumer Reports, it earned a dismal road test score due to flat seats and an odd driving position that makes simply operating the hatchback difficult. The 500L also scored a poor rating in the IIHS small-overlap frontal test, and satisfaction ratings among people who own this vehicle have been abysmal. A majority of owners surveyed say they wish they hadn't bought this car. Ouch!
8. Lowest-Rated Midsized Sedan: Chrysler 200
You knew a Chrysler would make it onto this list somewhere. And this year it is in the midsized sedan category, where the oddly named "200" scored terribly on its safety and overall ratings. Making matters worse for the Chrysler 200 is the fact that this car competes in a category filled with great vehicles – excellent alternatives to this stodgy mess. Reviewers claim that the 200 drives like it's from a previous era, i.e. the terrible 1970s when Chrysler was known for turning out one jalopy after another. The vehicle's handling is clumsy, the driving experience can best be described as "rough," and the four-cylinder engine underwhelms. Plus, people say there is so little room in the backseats that they feel claustrophobic. In addition, the transmission is described as "uncooperative" and the car's reliability is subpar. If all this doesn't scare you off, consider that the Chrysler 200 has the distinction of carrying the lowest overall road test score in its midsized sedan class, as well as the very lowest reliability rating. You've been warned!
7. Lowest-Rated Compact Luxury Car: Mercedes-Benz CLA 250
Mercedes-Benz's venerable reputation has taken a hit in recent years, due largely to the performance and quality of models such as the CLA 250. And to be sure, most people expect a lot better performance from a car with the Mercedes moniker on it than they get from the CLA 250. The engine and transmission have each been criticized for lacking power and sophistication, and the powertrain is often unresponsive. Plus, the CLA 250 has developed a reputation for being extremely stiff. Getting into and out of the vehicle has been described as "difficult," and the interior has been described as both "noisy" and "cramped." Safety and reliability ratings are well below average, and potential buyers should be aware that the starting price of $32,000 is for a very basic model. People have to shell out a lot of extra money to get many of the luxury features that come standard in other Mercedes-Benz models.
6. Lowest-Rated Midsized Luxury Car: Lincoln MKS
Lincoln's are often described as "old man cars," and the midsized luxury MKS has been criticized for feeling both old and tired. Many reviewers, including Consumer Reports, have commented that the MKS has fallen behind other Lincoln models, which they consider to be modern and impressive. Essentially a large, Ford Taurus-based sedan, the MKS has an outdated interior that provides poor visibility, as well as a small trunk that some critics have labeled as "useless." The weak 3.7-liter, V6 engine has contributed to poor reliability ratings and it has scored badly on IIHS' safety report. If you're in the market for a Lincoln, you'd be well served to look at another model.
5. Lowest-Rated Family SUV: Dodge Journey
Ah, the Dodge Journey. Like all Dodge vehicles, the Journey competes largely based on price and affordability. At a starting price of $20,000, it has a more attractive price point than many comparable vehicles in its sport utility vehicle class. However, this vehicle scores woefully by just about every measure. Consumer Reports found that the three-row Journey has a very cramped interior, handles poorly and the V6 engine delivers the worst fuel economy in its vehicle class. If all that weren't bad enough, the Dodge Journey also scored well-below average in terms of reliability and got a dreadful performance in its IIHS small-overlap frontal crash test. Dodge frequently offers discounts on the Journey. Don't take the bait. This SUV is not worth the risk.
4. Lowest-Rated Luxury Compact SUV: Land Rover Discovery Sport
It might come as a surprise to see a Land Rover on this list. After all, Land Rover is a pretty reputable brand and has always been a leader in the compact sport utility vehicle segment. Yet, auto analysts claim that Land Rover has been slipping in recent years. Case in point: the Discovery Sport, which has a difficult time competing against other vehicles in its class. The engine power from a turbo four-cylinder has been criticized for being uneven, and the transmission is not smooth or responsive. Plus, most critics say there is nothing about this SUV that would lend someone to call it "sporty." Bottom of the barrel scores on safety and reliability, and a hefty starting price of nearly $40,000 make this a compact SUV to take a pass on.
3. Lowest-Rated Large Luxury SUV: Cadillac Escalade
The Cadillac Escalade is a once premium large sport utility vehicle that has fallen on hard times. Today, few automotive experts would even call the Escalade a luxury vehicle. They claim its handling is too stiff, and that it does not have the basics to compete with its peers in the luxury SUV space. And sadly, Consumer Reports states that: "The Escalade simply floundered in our tests." Despite its large body, the interior is conspicuously cramped. Second row seats are not very comfortable, and the third row has almost no leg room at all. The infotainment system in the Escalade has been called one of the worst in the auto industry. But the real nail in the coffin for this vehicle is the fact that is has the worst safety ranking in its class. All this for a starting price of just over $85,000.
2. Lowest-Rated Minivan: Chrysler Town & Country
The Chrysler Town & Country narrowly edged out its Dodge Grand Caravan sibling to claim the title of worst rated minivan. While neither vehicle achieved good scores or ratings for safety and reliability, the Town & Country takes the cake when it comes to seats that are thin, low and just plain uncomfortable. The fuel economy is lousy at just 17 miles per gallon of gas – the absolute worst among all minivans. And, the Town & Country scored a terrible safety rating in the IIHS small-overlap frontal crash test. Chrysler seems to have succumbed to all the criticism and is now replacing the Town & Country with its heavily advertised Pacifica van, while the Dodge Grand Caravan is being discontinued altogether. But try and resist the incentives offered on these two minivans in coming months. They are not worth the hassles.
1. Lowest-Rated Green Car: Mitsubishi i-MiEV
This brings us to the "green" car segment, or the class for vehicles that are supposed to be great for the environment – you know, fuel efficient, clean burning and all that. Or, all electric cars, as the case may be. While this is a noble category of car, not all green vehicles are worthy of the mantle. Especially the Mitsubishi i-MiEV. Critics who have savaged the i-MiEV say there is a reason it is the cheapest all-electric car on the market today at a base price of $23,000. Some reviewers have described this vehicle as basically a golf cart. Known for being slow, clumsy, and unresponsive, the i-MiEV contains a barebones cabin that is so small drivers elbows typically rub against the window glass while their hands are on the steering wheel. Plus the interior is noisy as hell. Bonus: It also contains a dreadful battery life that only enaMibles people to drive 56 miles before it needs to be recharged. The tiny size and poor distance range have led to this car scoring awfully in terms of safety and reliability. Some people have said that the i-MiEV hurts the electric car movement more than high gas prices.