By far the deadliest risk facing SUV, minivan, and truck occupants is a rollover accident. According to NHTSA (National Highway Traffic Safety Administration), more than 280,000 rollover accidents are reported each year, claiming more than 10,000 lives annually.
In 2003, 35.7 percent of fatal SUV crashes resulted in a rollover. That same year just 15.8 of fatal passenger car accidents resulted in a rollover. What this statistic points out is the fact that SUVs are much more likely to rollover in a serious accidents. Compounding the issue is the fact that SUVs often carry heavy loads with make them even more top-heavy and thus are more likely to be involved in rollover accidents.
Causes of Rollover Accidents
Rollover accidents are directly related to a vehicle's stability in turns. That stability is influenced by the relationship between the center of gravity and the track width (distance between the left and right wheels). A high center of gravity and narrow track can make a vehicle unstable in fast turns or sharp changes of direction--increasing the odds that it will tip over once it begins to skid sideways. The problem is most pronounced in 4-wheel-drive pickup trucks and sport-utility vehicles, which have a higher ground clearance for off-road driving.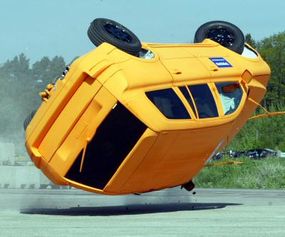 Many SUVs have roll-stability control systems that work to prevent rollover accidents.
photo courtesy of Volvo
Most fatal 4WD rollovers are single-vehicle accidents that occur on weekend nights. The drivers are most frequently males under 25, and alcohol is usually involved. In three out of four fatal rollovers, the victims were ejected from the vehicle, indicating they weren't wearing a seatbelt.
Rollover Accident Risk Rating System
Neither cars nor trucks are subject to a federal rollover standard, though pressure for such a requirement has been building. To help predict which vehicles might have a greater likelihood to overturn in single-vehicle accidents, NHTSA introduced a rollover rating system in 2001. Reported on a five-star system, the rollover ratings are based on an engineering analysis of each vehicle's center of gravity and the width between the front tires. The results are compared with police accident reports for confirmation. In its rating system, five stars equals a rollover risk of less than 10 percent, while one star indicates a greater than 40 percent rollover risk.