Consumer Guide's Impressions of the 2007 Lamborghini Gallardo Superleggera
The baby bull slims down and muscles up for a lightweight title fight with Ferrari.
What We Know About the 2007 Lamborghini Gallardo Superleggera
The Lamborghini Gallardo bowed in 2003 as the latest junior model from Italian supercar power Lamborghini, a unit of Germany's Audi since 1998. A Gallardo Spider convertible was added for 2006. Both feature a midship-mounted V-10 engine and all-wheel drive. Now, as a late-season 2007 entry, comes a higher-performance Gallardo coupe called Superleggera-"superlight" in Italiano.
Weight is the enemy of performance, so the 2007 Lamborghini Gallardo Superleggera pares as many pounds as possible from the standard coupe. Though it uses the same aluminum "spaceframe" construction, several body panels are replaced with carbon-fiber copies: front hood, rear engine cover, side skirts, the rear air diffuser below the exhaust outlets, even the door-mirror housings and the underbody tray. The regular car's movable rear wing is slightly reshaped; a larger fixed-height carbon-fiber spoiler is available for $5850. Glass windows give way to polycarbonate substitutes, and the engine cover gains a plastic window like the Ferrari F430, the Gallardo's chief rival.
Carbon fiber is also the new material of choice for the center console, seat shells, and interior door panels. Suede-like Alcantara replaces leather on the dashboard and heavily bolstered sport seats, accented by stitching matched to exterior color. The interior loses 12 pounds of sound insulation and the audio system is now optional, but climate control and power windows remain standard because customers want them, Lamborghini says. Standard seat-mounted side airbags continue as well. Other Superleggera exclusives include special instrumentation, multi-spoke Speedline wheels (diameter remains 19 inches), and dark accents for the headlamps, front air intakes, and exhaust pipes.
The Jenny Craig treatment slims curb weight for the 2007 Lamborghini Gallardo Superleggera to just under 3000 pounds in U.S. trim, a 150-pound advantage over the standard coupe. Complementing that, the Gallardo's quad-cam V-10 gains 10 horsepower-to 530 total-via a new lightweight exhaust system, a more-efficient intake manifold, and remapped engine electronics. The suspension retains all-around all-around double wishbones and coil springs, but the springs and shock absorbers are retuned to match the reduced mass. Brakes are also unaltered, but carbon-ceramic discs are available for $15,600.
The Gallardo's all-wheel drive system is also tweaked, gaining a new propshaft to the front wheels, plus new front driveshafts. Lamborghini's "e-gear" six-speed sequential manual transmission, an option on regular Gallardos, is standard for the Superleggera. A conventional six-speed manual is available for $700, the surcharge reflecting lower EPA-rated mileage that triggers the federal gas guzzler tax.
We don't have mpg numbers yet, but factory performance figures show only slight gains over the regular car. For example, the 2007 Lamborghini Gallardo Superleggera does the 0-60 mph romp just 0.2-second quicker-a claimed 3.8 seconds-and top speed is unchanged at 195 mph, limited by aerodynamic drag.
Given such little-improved acceleration and a noisier, starker interior, you may wonder why Lamborghini bothers with the Superleggera. One reason is snob appeal. After all, this car plays in a market where buyers willingly pay big to drive something exclusive. No less important, the Superleggera throws down the gauntlet to archrival Ferrari, which this fall issues a lightweight track-oriented version of its F430, the Challenge Stradale. Finally, less weight and more muscle imply greater agility, which relates to both bragging rights and answering Ferrari.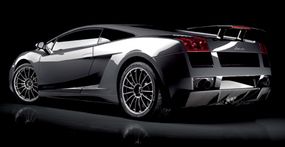 A Notable Feature of the 2007 Lamborghini Gallardo Superleggera
The Gallardo is one of a handful of high-power sports cars with standard all-wheel drive. Reflecting Audi influence, the system uses a viscous coupling to drive the front wheels, which always receive at least some engine torque, even at low rpm.
Buying Advice for the 2007 Lamborghini Gallardo Superleggera
Prepare to wait if you haven't already ordered. Lamborghini is building only 350 Superleggeras for 2007, and the entire run has sold out. But you might want to wait anyway, because a Superleggera Spider seems likely to surface in the next couple of years.
2007 Lamborghini Gallardo Superleggera Release Date: For what it's worth, deliveries begin in July 2007.
First Test Drive: Somehow, we weren't on the invite list for the U.S. media event staged earlier this year in the Phoenix area. Pretty please, Lamborghini. Give us some seat time!
2007 Lamborghini Gallardo Superleggera Prices: The suggested MSRP sans options is $220,300
For more inside information on hundreds of new cars of today and tomorrow, check out:
The 2007 New York Auto Show: The Auto Editors of Consumer Guide bring you the latest news, opinion, pictures, and prices on all the new cars introduced at the 2007 New York Auto Show.

Consumer Guide New Car Reviews and Prices: Road test results, photos, specifications, and prices for hundreds of new cars, trucks, minivans, and SUVs from the Auto Editors of Consumer Guide.

Fuel-economy leaders: The EPA admits its fuel economy numbers are estimates. Ours are real. Here are the fuel-economy leaders as determined in Consumer Guide tests.

Future Cars: Step into the automotive showroom of tomorrow with reviews, analysis, pictures, prices, and preliminary specifications on scores of 2008, 2009, and 2010 new cars.