The 1940 Westergard Mercury was created by Harry Westergard, the grandfather of customizing. Despite his importance, Westergard's cars never received that much attention from the automotive media. The reason is simple. His career spanned from the late 1930s to the late 1940s, and the hot rod and custom magazines like Hot Rod, Motor Trend, and Hop Up didn't exist until at least 1948.
One of Westergard's creations is the 1940 Mercury featured here. A man named Butler Rugard brought the car to Westergard's Sacramento shop shortly after he bought it new.
There is no definitive documentation on the car, but it is believed that Butler initially just wanted a set of fadeaway fenders and that the customizing happened on and off over the next ­couple of years.
Fadeaway fenders were cutting edge for the day. The 1938 Buick Y Job show car predicted them with pontoon fenders that extended into the doors, but full fadeaways didn't make their debut until 1942 when they appeared on the Buick Super and Roadmaster models. So, for Butler Rugard to want them in 1940 and for Harry Wester­gard to create them from metal represents forward thinking.
By the time the car was done, it had much more than just fadeaways. Westergard was known for using Packard or LaSalle grilles, but in this instance, he installed a 1942 Buick grille flanked by Packard headlights.
Using the Buick grille necessitated reworking the lower front portion of the hood to fit. It was the top of the hood, however, that received the most drastic changes. ­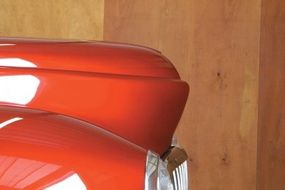 Westergard peaked the hood, and ran the upper beltline around the hood's perimeter. Along the way, he eliminated the flared humps of the Mercury hood, and gave the nose a stepped prowlike protrusion, much like a period "sharknose" Graham. Rippled 1937 DeSoto bumpers were originally installed, but they were later replaced with 1941 Packard units.
Other modifications were made as well. Westergard chopped the windshield about three inches and added a Carson-style top made from parts of the original convertible top. This also required cutting the side vent windows at the top and giving them new moldings.
Teardrop fender skirts, a rolled and pleated interior, 1941 Chevy taillights, Appleton spots, and stock wheels with Packard hubcaps completed Rugard's unique custom.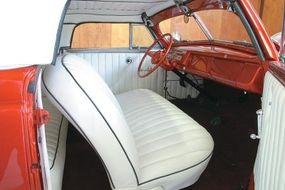 The car was shown at the first Autorama in Sacramento in 1950, and appeared in magazine coverage of the event. From there it faded into history until custom collector Jack Walker found the car in 2002 and teamed up with Ed Guffey to purchase it. The pair had the car restored to the way it appeared at the Autorama.
Dave Dolman of Berdon, Nebraska, reworked the body; Bob Sipes of Pleasant Hill, Missouri, did the interior; Uncommon Engineering of Indianapolis built the Ford flathead V-8; and Sonny Rogers of Independence, Missouri, did all the mechanical work. The process took about a year and a half.
After its completion, the Westergard Mercury was an honored participant at the first gathering of historic customs at the Pebble Beach Concours in 2005. ­