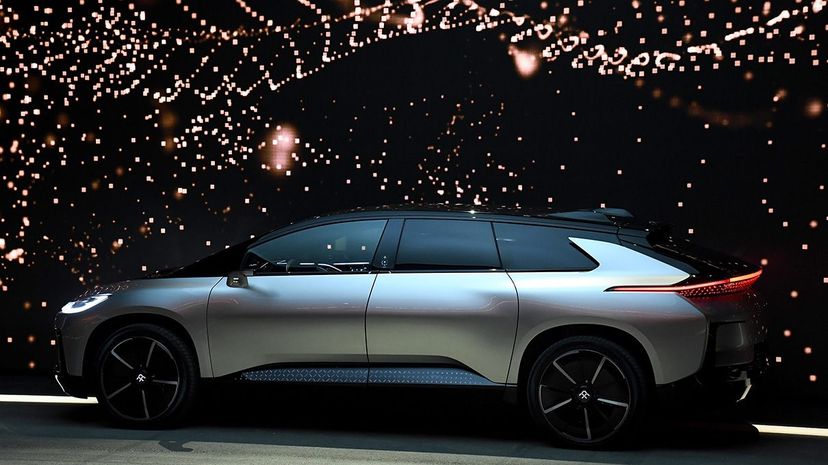 Faraday Future announced its intentions to build an all-new electric vehicle at CES 2016 in Las Vegas, where it brought a Batmobile-like concept race car. That was cool, but unrealistic. (You can listen to Scott and Ben's take on it in the embedded CarStuff podcast from HowStuffWorks here.) 
So Faraday learned its lesson for CES 2017: It brought the beta version of its prototype vehicle, the FF 91.
The all-electric vehicle will be connected and autonomous, according to the company. Its "open ecosystem" will work with any platform, with two WiFi antennas and multiple LTE modems onboard. The key – literally – is FFID, a profile that drivers and passengers set up with the company. The vehicle has facial recognition technology that unlocks the doors for you when you approach and sets your preferences, from seat position to streaming music.
"The integrity of data, personal information and safety are our top priorities," said Hong Bae, Faraday's director of advanced driver assistance systems and self-driving, from the stage on Jan. 3.
Bae also introduced the FF 91's retractable lidar puck mounted in the hood, one of at least 36 sensors on the vehicle. When the lidar is active and the vehicle is driving autonomously, it lights up to let those inside and outside the vehicle know that this crossover-style vehicle is driving on its own.
That led to one of the more impressive live demonstrations: driverless valet parking. The prototype was set in motion in the parking lot outside the Las Vegas venue to find a spot on its own. It overshot an empty space, making for a tense moment. But the FF 91 was "feeling fancy," Bae said, as it executed a very careful three-point turn and backed into the space. "Touchdown!" Bae said. (The onstage parking demo at CES, however, didn't go so well, as the car refused to budge.)
The FF 91 is expected to have a 378-mile (608-kilometer) range and 1050 horsepower. In track testing, the vehicle made 0-60 mph (0-97 kph) in 2.39 seconds, a feat it nearly repeated in Las Vegas in a race against cars from Bentley, Ferrari and Tesla. The speeds and times weren't posted live in Las Vegas, though, so the audience was left to take Faraday's word on that one. In December 2016, it released a video roughly to the same effect though:
If the crossover shape, emissions-free drivetrain, complete connectivity and autonomous features have you salivating, you can head to FF.com to set up your FFID and put down your $5,000 refundable deposit for your very own FF 91. No word on how much of a dent that $5,000 will make on the car's overall cost, as the company has yet to release a price. Deliveries of the vehicles will begin, optimistically, in 2018, with the first 300 being designated as special Alliance Editions.
For those who cannot wait, the very first FF 91, serial number 1, will be auctioned off at a gala event in Los Angeles in March.