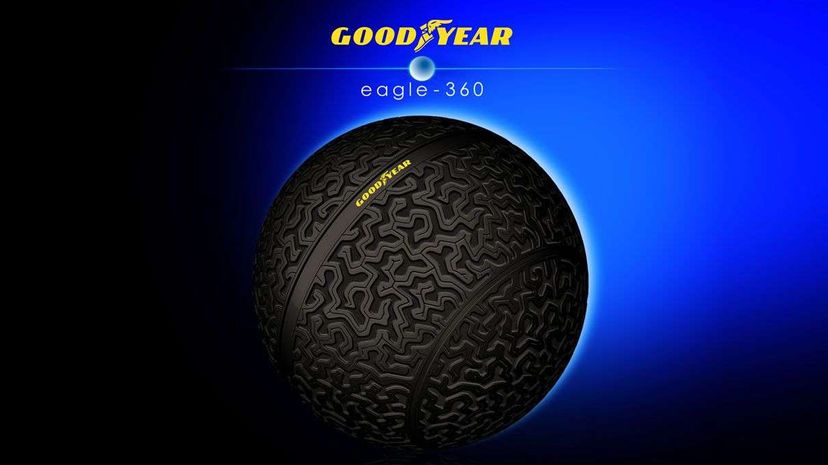 According to the old cliché, there's no reason to reinvent the wheel; however, Goodyear decided that was terrible advice. The company recently showcased its all-new Eagle-360 concept tire at the 2016 Geneva International Motor Show — and as the number in its name suggests, the tire is actually a full sphere.
The Eagle-360 isn't designed for the cars of today, or even for the cars of tomorrow. It's designed for "the commuter of the future," said Goodyear VP Olivier Rousseau in Geneva. Navigant Research, a market research and consulting team that provides in-depth analysis of global clean technology markets, has predicted that 85 million autonomous cars will be sold annually worldwide by 2035. And when you can sit facing any direction inside the vehicle, why shouldn't the car move in any direction as well? This level of maneuverability would allow the vehicle to smoothly sweep around obstacles and slide into tight parking spaces without jostling the vehicle's occupants too much.
When you change the shape of the "ordinary" tire so radically, then the technology we've come to rely on has to change, too. Goodyear's current tire pressure monitoring systems would need an upgrade, and sensors that keep track of tread wear would have to check for uneven wear across the entire rubbery surface of the spheres. Goodyear says its sensors could do just that, and then adjust the tire to even out the wear so it lasts longer.
That surface, by the way, would no longer be the tread pattern you recognize, since current tires are designed to spin in basically one direction, with the occasional turn or short journey in reverse. Just how different will it be? Goodyear has designed a 3-D printed tread that, according to a press release, "mimics the pattern of brain coral." The idea is that the many folds in the sphere's surface could absorb water and soften in wet conditions, providing more surface area and improved grip on slippery roads. When conditions are dry, the tire tread would dry out and stiffen for better performance. The exact pattern could even be customized for your specific region and driving habits.
That's all weird enough, but if you really want your mind to be blown, check out how Goodyear imagines the tires would be attached to the car. Rather than a traditional axle and suspension setup — which, for obvious reasons, would not work with spherical tires at all — the Eagle-360 would be held in place by magnetic levitation (aka maglev) technology. "It's similar to what you find on trains today," said Rousseau. That results in a smoother ride and less noise.
In the future, "safety will be more important in autonomous vehicles than it is now," said Goodyear President Jean-Claude Kihn in Geneva. The Eagle-360 is designed to address the safety and comfort issues in autonomous cars — vehicles that we're just now starting to see as a possible reality.