The Grasshopper was created in one of the most influential custom shops of the 1960s, Alexander Brothers Custom Autos, which was located in Detroit and operated by two talented brothers, Mike and Larry Alexander.
Mike and Larry originally built The Grasshopper 1931 Model A pickup in late 1958 as their shop truck, but over the next few years it became too nice for chasing parts. In fact, it won awards at many custom shows and served as a rolling calling card for their business throughout the 1960s.
The custom work on The Grasshopper was relatively subtle by Alexander Brothers' standards, but still quite involved. They chopped the top 2-1/2 inches, swapped the 1931 fenders for 1929s, installed a larger 1932 Ford pickup bed, and replaced the stock Model A grille shell with a reworked '32 Ford unit.
The "A Brothers" had an ability to adapt disparate parts into a cohesive design. On The Grasshopper, they incorporated a set of 1942 Dodge truck headlights, taillights made from 1947 Kaiser interior lights, and 1954 Chevy side trim for the edging on the running boards.
They also outfitted the handmade dash with Chrysler gauges set within a surround made by welding two large U-bolts together.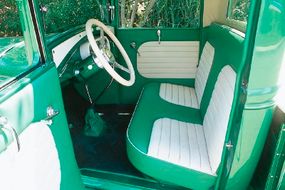 Reflecting on the truck, a modest Mike said, "I don't know what all of the fuss is about. It was just a stock A-V8 pickup truck that we used every day. It only had a few minor changes done to it."
The Alexander Brothers closed their shop in 1969 and went on to ­separate careers. Over the years, they lost track of The Grasshopper, which eventually ended up in the hands of pinstriper Don "the Egyptian" Boeke. Don sold the pickup back to Mike so he could restore it.
Mike revised the custom truck with many modern mechanical updates but retained its vintage appeal. He replaced the frame with a reproduction Model A unit, and sent the original 1951 Ford flathead to Motor City Flatheads.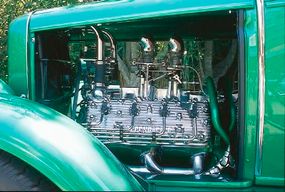 Motor City added electronic ignition and gave the Offen­hauser heads, dual Stromberg 97 carbs, and Edmunds manifold a better-than-new luster. A Ford C4 automatic replaced the 1939 Ford transmission, but inside Mike maintained the look of the original by installing a gennie floorshifter.
Mike is quick to credit the many talented artists he enlisted to rebuild the truck. The Gaffoglio family, Bob Hedrick, and Kenny Pfitzer of Metalcrafters, Inc. in Fountain Valley, Cali­fornia, were instrumental in the rebuild.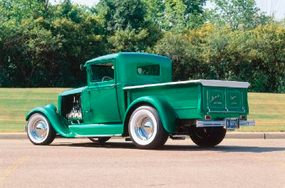 Little John, also of Fountain Valley, stitched the upholstery, and Paul Hatton, who did the original tailgate lettering and pinstriping, reprised his work. Final details were handled at Special Projects in Plymouth, Michigan, with the help of Ken Yanez.
From the outset of the restoration, Mike wanted to finish in time for the 50th Detroit Autorama in February 2002. He accomplished his goal, and The Grasshopper appeared with many of its former shopmates in a special tribute to the Alexander Brothers.