The Ford Custom Car Caravan came about as the 1960s dawned and the American custom car scene was in full swing. Sensing the marketing opportunity to grab the attention of hundreds of thousands of showgoers, as well as the media, Ford Motor Company decided to get in on the custom car craze.
Under the leadership of Ford Special Projects Divi­sion head Jacques H. Passino, the Ford Division conceived the Ford Custom Car Caravan to create and campaign custom­ized and performance-themed Fords.
The Caravan started in fall 1962 and first relied upon cars built in-house, then presented customized factory cars built by commissioned shops to factory specifications. Ulti­mately, the Caravan adopted privately created custom cars based upon production automobiles.
Initially, the Ford Custom Car Caravan featured its famed X-car concept vehicles (Mustang II, Cougar II, and Allegro), which were later joined by the Dearborn Steel Tubing-built Thunderbird Italien and the George Barris-built Fairlane Landau Starburst, in shows presented by the International Show Car Association (Promotions, Inc.).
As the Caravan grew and more custom cars were needed to fill at least three regional Caravans, Ford reached out to additional customizers and eventually either commissioned or adopted the work of the Alexander Brothers, George Barris, Clarkaiser, Bill Cushenbery, Dearborn Steel Tubing, Fostoria Customs, Dean Jeffries, and Gene Winfield.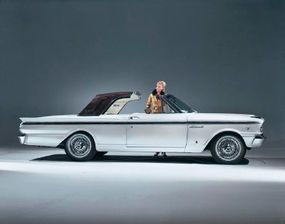 To meet auto enthusiasts' parallel and growing interest in muscle cars, Ford expanded the Caravan late in the first season to feature performance versions of its 1963 1/2 Galaxie hardtops, an early example of Carroll Shelby's Cobra, and a sectioned 1962 Falcon built by Holman-Moody.
A couple Fairlane Thunderbolts built by Dearborn Steel Tubing were shown in the second season. Successive versions of some Caravan custom cars were featured as the builders updated their cars.
In addition to the ISCA shows, Ford presented its Caravan at Ford dealerships, county and state fairs, shopping malls, and teen fairs.
Early shows featured an AMT slot car track, as well as appearances by longtime racer and Ford "performance advisor" Ak Miller and most of the customizers whose work appeared in the Caravan.
As the Ford Custom Car Caravan matured, Ford approached individual customizers and proposed that if they installed Ford powerplants in their wild customs, their cars could appear under the Ford banner.
The Caravan was widely covered in several dozen custom car magazines. By the third year, the relative number of custom cars had declined in favor of high-performance versions of Ford production cars.
Of the original cadre of customizers, only Barris made appearances for the final Caravan season. The Ford Custom Car Caravan concluded sometime in the 1965-66 show season.
Starting in late 1963, the Lincoln-Mercury Division got involved with its Caravan of Stars, but this program strictly relied upon in-house designs.
Starting with the Barris-built but factory-designed Mercury Super Marauder and the Ghia-bodied Mercury Montego, this Caravan was joined by the Dearborn Steel Tubing-built Super Cyclone and the Winfield-built Comet Cyclone Sportster. Both Cyclones successfully merged custom and performance themes.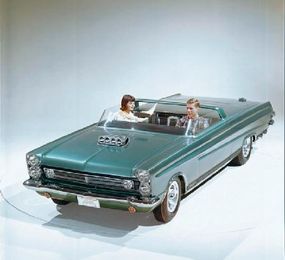 The Lincoln-Mercury Caravan was also enhanced by the Barris-built Comet Escapade. This car was built to factory specifications and later modified by Barris when part of the factory design was rejected by Lincoln-Mercury executives!
A long wheelbase Lincoln Continental that was probably built in-house also joined the tour. Lincoln-Mercury's Caravan was presented in shopping centers and other informal settings, and ended with the conclusion of the 1966 show season.
By the final two seasons, Ford's two Caravans had switched their focus to performance more than customizing, just as enthusiasts had moved away from customs to embrace ­muscle cars.
Still, the Caravans showed that Ford Motor Company was a proponent of custom cars, and Ford's efforts gave work and publicity to customizers at a time when they really needed it.