Entrepreneur Don Tognotti, builder of The Avenger, was in the thick of things around the Sacramento area as the hot rod show circuit gained popularity throughout California in the late 1950s. He built cars, ran a speed shop, and ­promoted regional shows.
Don bought a 1932 Ford five-window coupe for $200 in 1960 and built it for show and go. Along the way, he kept detailed "build sheets" noting the price (many of those prices are ­listed here) and date of all the parts and work.
Don altered the frame considerably, extending it four inches, ­vertically narrowing the rails, and pinching them in front. He chopped the top three inches and channeled the body ten inches up front and eight inches out back to create one of the first wedge-channeled rods. The resulting rake ­created an aggressive stance that enhanced the overall look.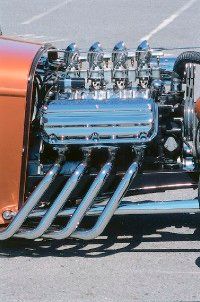 He made the unique insert for the cut-down grille shell from 3/8-inch clear plastic rod and simple metal mesh. The chromed firewall (Don paid $22) reflects the highly finished engine.
The engine of choice was a 1951 Chrysler Firepower 331-cid Hemi ($200) with four Stromberg 97 carburetors ($70). Don mated the Hemi to a 1937 DeSoto transmission and chose a 1942 Ford panel rear end ($28.60) and driveshaft.
The custom-bent headers ($220) are a work of art, as they sweep gracefully from the engine around the frame and under the hot rod to the rear with nary a muffler or weld in sight.
Don had the interior finished in black with the stock dash replaced by tuck-and-roll padding to match the header panel. He placed the speedometer, temperature gauge, and fuel gauge between the seats on the floor. The upholstery cost him $250.
Don painted the car Aztec Golden Copper and dubbed his $4056.22 creation The Avenger. The custom coupe won its class at the 1961 Grand National Roadster Show, then embarked on a series of shows.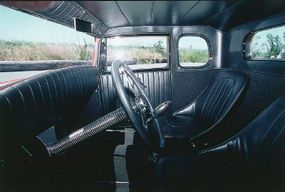 The Avenger also saw plenty of action at the dragstrip. After its first magazine appearance in the July 1962 issue of Car Craft, Don sold the hot rod to Bob McCloskey, who modified it. The reworked coupe appeared in the September 1962 Rod & Custom. Well-preserved, it also appeared in magazines in the 1970s and 1980s.
Ken McBride of Seattle bought the hot rod in 1996, and restored it with the help of the build sheets that Tognotti had delivered to him. After the restoration, The Avenger was displayed at the prestigious 2001 Pebble Beach Concours d'Elegance in the Hot Rod Coupe class.
Fittingly, The Avenger once again did show duty, though it will probably never make another run at the dragstrip.